There's something so refreshing about cold, sweet treats in summertime. I remember eating many popsicles, freeze pops, Italian ice and my favorite, homemade popsicles, as a child.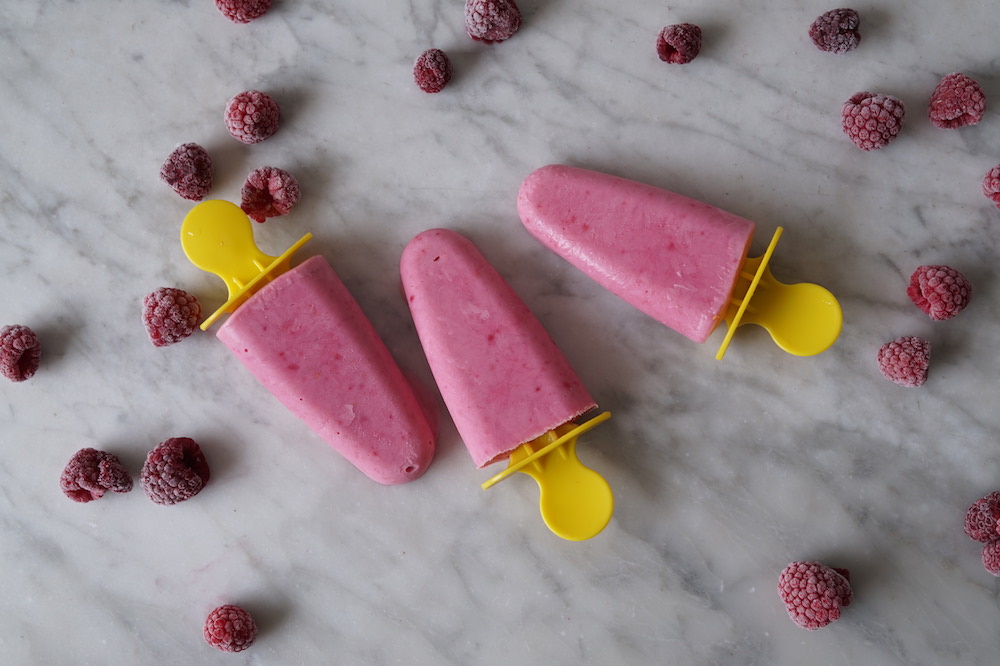 I'm not sure if it was the satisfaction of having helped out that made it taste so much better, but getting kids involved in food preparation definitely piques their interest. My 3-year-old son loves to make recipes as mommy's little helper! He made sure we filled each popsicle mold evenly and placed the sticks in perfectly. He wanted to keep checking the freezer until they were ready.
They took overnight to fully freeze, but he didn't forget – he brought them to me from the freezer first thing in the morning! They were a huge hit for sure.
This recipe calls for Conebella Farm's Greek Yogurt, so you could certainly use your favorite fruit flavor and pair it with even more of that fruit, or a complementary fruit flavor. I chose to use plain and add frozen raspberries. While I used a 1/2 cup of sugar, a sugar substitute such as maple sugar, honey or agave should work just as well — and feel free to trim down the amount of sugar. While I think the sugar could be significantly reduced, the sweetness and fruit flavor in this recipe is really delicious.
Raspberry Frozen Yogurt Popsicles
Ingredients
1 cup frozen raspberries or your favorite fruit
1 cup Conebella farm plain Greek yogurt
½ cup sugar (or less if desired)
¼ cup cream
Instructions
Blend in food processor.
Pour into popsicle molds.
Freeze overnight.
Serve and enjoy!