Do you have tasks that you dread, thinking they will take forever, but then once you get started on them you realize they're so easy you don't know why you've been putting them off?
That was this apricot cheddar crostata recipe for me. It looked so fancy, and with such an unusual combination of ingredients, that I thought it would be a stretch for me. I thought it would take at least a whole afternoon. But once I got started, it took about 15 minutes to assemble and 45 minutes to bake. And 15 minutes of active time is very little investment for a dessert so elegant and delicious!
A "crostata" sounds complicated, too, but really it is just a free-form pie. It's actually far easier than baking a pie with fluted edges, lattice top, or even crumb topping. You just roll it out, spread the filling in the middle and fold the edges over in whatever way looks good to you. Part of its charm is that it's supposed to look rustic, so no need to stress about the "right" way to fold the edges.
Another thing I was concerned about when making this recipe: I wasn't sure how the cheddar and almond would work together, but then I remembered that the cheese balls I always devoured at my grandmother's house every Thanksgiving use almonds and cheddar. It's a combination that works well, especially paired with tangy fresh apricots.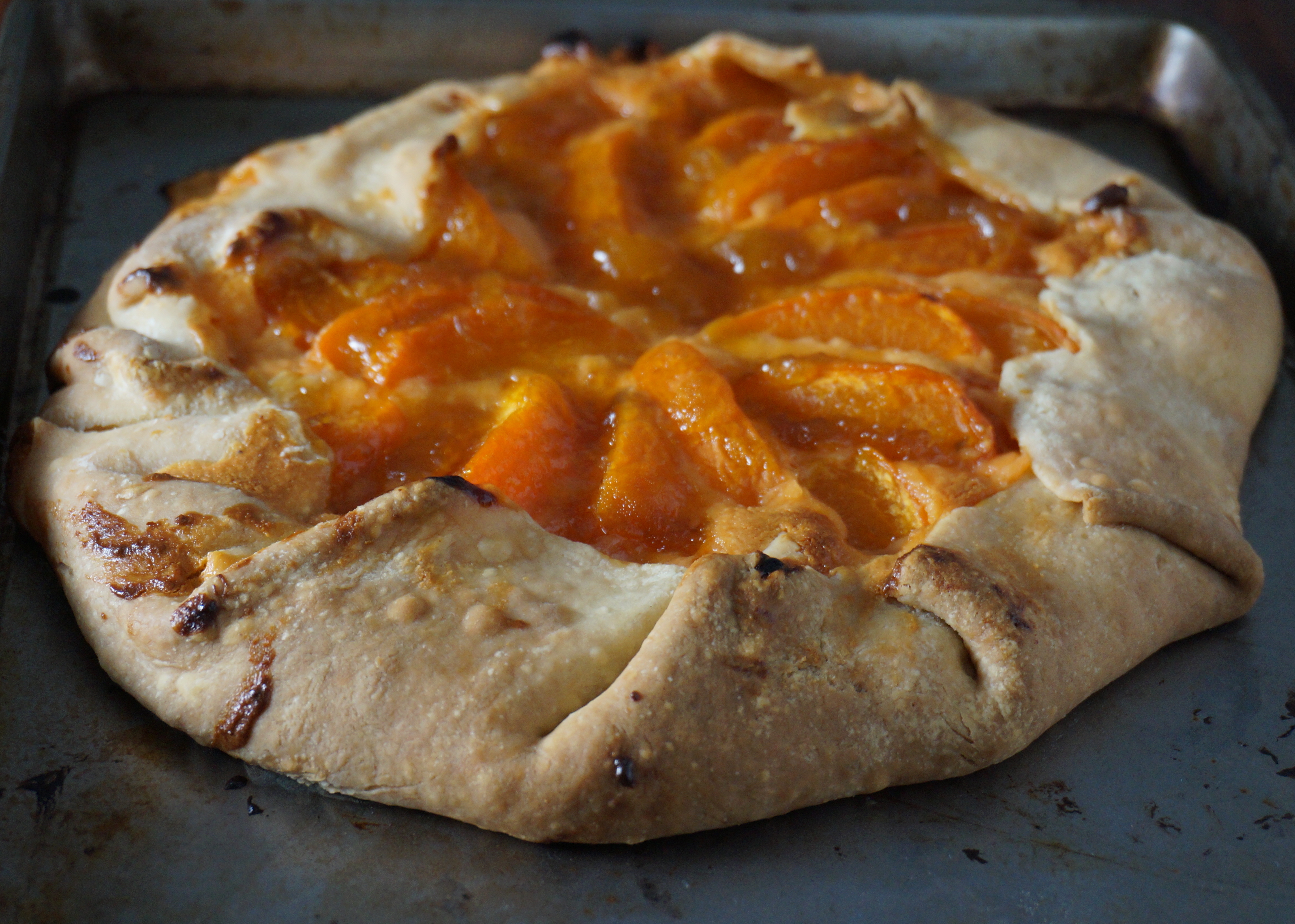 Print
Apricot Cheddar Crostata
Note: I originally did not make this on a parchment-lined baking sheet, and it's fine to skip the parchment paper. It just makes it a lot easier to move the crostata from a baking sheet to serving dish without it falling apart.
1

prepared pie crust, thawed but not baked

3.5 ounces

almond paste

3 tablespoons

sugar

6 ounces

Conebella Farm Cheese Cheddar Spread

1

large egg yolk

1/2 teaspoon

vanilla extract

4

large fresh apricots, pitted and sliced into thin wedges

1/4 cup

apricot jam, heated until liquid
Materials: parchment paper
Instructions
Preheat oven to 400°F.
In a food processor, blend almond paste and sugar.
Add Conebella Farm Cheddar Spread, egg and vanilla. Process until smooth.
Unroll the crust on parchment paper and transfer to a baking sheet.
Spread the filling in the center of the crust, leaving about 1 1/2 inches all around. Arrange the apricot slices on top of filling in two concentric spirals. Fold dough over the edge of the filling (only the edge; a circle of apricots and filling should show through in the center). Brush the apricots with the heated jam.
Bake for 45 minutes until crust is golden brown.