Cheese makes an excellent topping for salads. A generous handful of grated sharp cheddar, squeaky cheese curds, or cubed Conebella Farm Italian Colby amplifies your salad, making it more filling and more flavorful.
In this particular salad, cheese takes a starring role. Creamy mozzarella pairs perfectly with the complex, tangy flavors of this chimichurri-inspired salad.
If you're not familiar with chimichurri, it has been referred to as "Argentinean Pesto." That gets you near the neighborhood of chimichurri, but you'll need some clarifications if you want to arrive at chimichurri's doorstep.
First, chimichurri is also traditional in the cuisine of Uruguay. Second, it's not nutty or cheesy like pesto. Third, it's most often used atop grilled beef or sausage, not pasta. "Forget adding chimichurri to a bowl of pasta," says Argentinean travel blogger Ana Astri-O'Reilly, "you're making me cry."
Why the pesto comparisons then? Probably because it's a fresh-tasting mixture of herbs. It could also spark comparisons with a simple salsa or gremolata. Made with vinegar, garlic, and herbs, it has a delightfully fresh taste. It's like a garden on a spoon.
In the kitchens of Argentinean families, it's traditional for chimichurri to accompany all the dishes served, says an article in The Guardian, noting that it's "as common as ketchup is in the US."
"We sometimes affectionately call it 'chimi' for short," says Ana Astri-O'Reilly in Paste Magazine. "It's a fundamental component of the Argentinean Sunday asado, that coma-inducing grilled meat fest which takes the status of a religious ritual every Sunday. "
In Argentina, you can find both chimichurri rojo and chimichurri verde. Chimichurri rojo adds tomato and red bell pepper to the mix of herbs, garlic, and vinegar.
This particular recipe uses a chimichurri verde. Traditional chimichurri uses oregano; this version uses cilantro. Although cilantro tends to be cheaper than fresh oregano, it can be a controversial herb. Not everyone loves it, so feel free to go back to the traditional oregano if you prefer!
As it has gained popularity in the U.S., chimichurri has been fused with many different dishes. I first discovered it as a dipping sauce to serve with homemade sweet potato fries. It is definitely not traditional to use it in a salad, so I am calling it Chunky Garlic-Herb Dressing instead, but with gratitude toward the chimichurri that inspired it.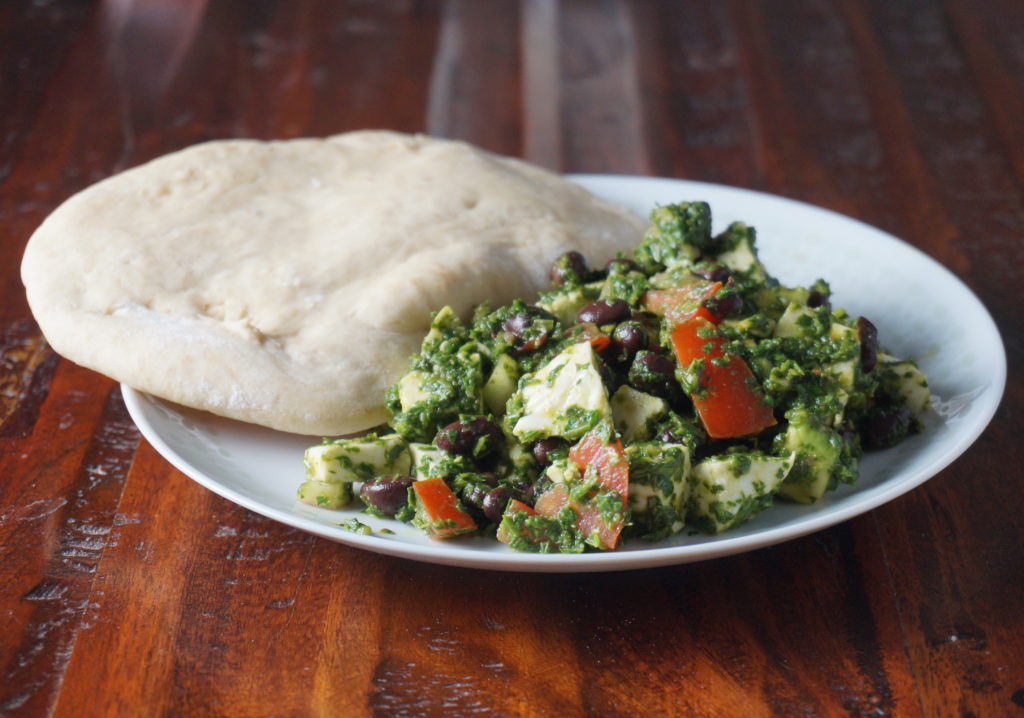 Salad
15-ounce can black beans, drained and rinsed
1 or 2 plum tomatoes, chopped
¼ red onion, chopped (about 1/3 cup)
½ avocado, chopped
8 ounces Conebella Farm Fresh Mozzarella Cheese, chopped
Chunky Garlic-Herb dressing
About 1/3 cup cilantro or oregano
About 1/3 cup parsley
2 tbsp apple cider vinegar
2 tbsp extra virgin olive oil
1 small garlic clove
¼ tsp chilli powder
¼ tsp ground cumin
Combine salad ingredients.
Add chimichurri ingredients to food processor and pulse lightly until roughly chopped.