On the calendar, August looked so unassuming. But now that it is here, it's beginning to fill me with panic as it tells me that summer will be over in a matter of weeks. It's been a busy month, and yet it's a month when there's so much sweet in-season fruit I want to make the most of. After all, blueberries this sweet only come around once a year!
When it comes to making the most of summer fruit yet checking off my remaining summer to-do list, I've found a solution: the free-form tart. Last summer and fall, I labored over many a pie, fluting the edges, mixing up crumb toppings. But recently I discovered the galette: a no-fuss, free form version of pie that doesn't even require a pie pan. You can roll out your dough, transfer it to a baking sheet, and fill it with your favorite sweet in-season fruit or even your favorite savory combo.
A few weeks ago, I wanted to bring a galette to a church picnic, but I also wanted to sample it first since it was the first time I'd tried the recipe. Scoping out my kitchen, I spied a muffin tin and decided my small "sample galette" would take shape inside a few of the muffin tin cups. It turned out (don't tell my fellow picnickers) that I liked the taste of the muffin tin pies even better! They delivered little pops of fruit and cheese flavor, and they maximized the most wonderful part of pie: the crust! And they were still so easy and free-form, perfect for August. And if there is one thing that's even better than fruit pie, it's fruit pie with chilled cheddar cheese.
To make cheesy bites of blueberry bliss, start with a good dough, worked over with a pastry cutter until the butter and flour are ground up very finely: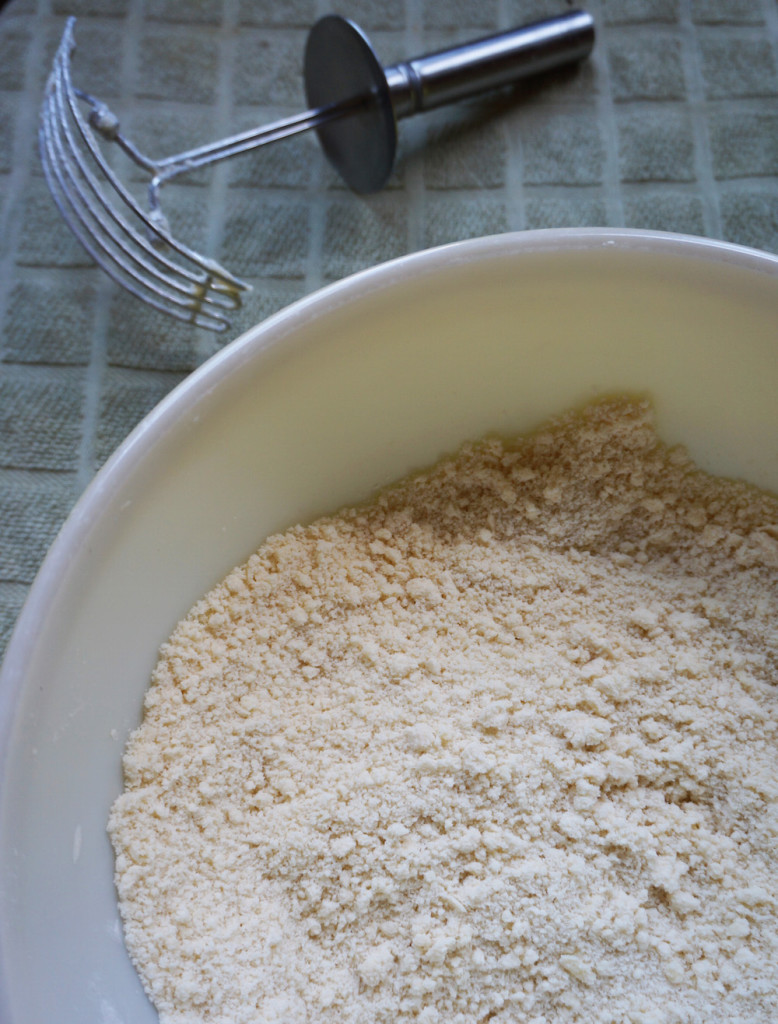 Then add the shredded cheddar cheese, salt and a few tablespoons of water.  Chill the dough for 30-45 minutes (for me, the dough was more fully chilled and workable after 45 minutes). It's a really nice, elastic dough to work with. The cheese makes it easier to work with than other pie dough.
Roll it out about 1/8 inch thick and use a wide-mouth Ball jar lid to cut out large circles.  Then go over each circle with the rolling pin until the dough is stretched out enough to fill the muffin tin cup with room to spare: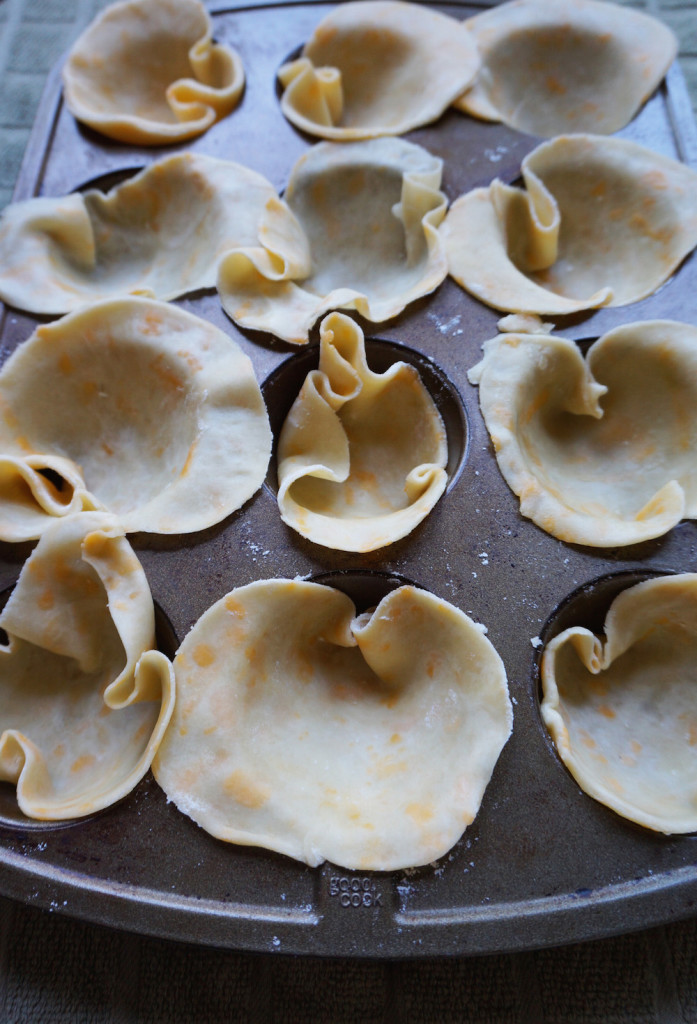 Since there's a good amount of butter in the dough, there is no need to grease the muffin tins.  Just one word of caution: If any of the fruit juice touches the tins, you will want to get the tarts out of the muffin tins while the fruit is still fairly warm, or else it will cling to the muffin tin and be hard to get out.
Next, place one dollop (about two teaspoons) of Conebella Farm Cheddar Spread at the bottom of each tart. Take blueberries out of the fridge, mix them with sugar, and add them on top of the cheese. (Mixing them with sugar too soon will make the blueberries too juicy, so leave them in the fridge, unsugared, until the last second.)
Fold the dough over the fruit and bake for 30 minutes until the dough is lightly golden and fruit is bubbling. Remove tarts from the tins and chill them at least 30 minutes so the cheese achieves a cheesecake consistency.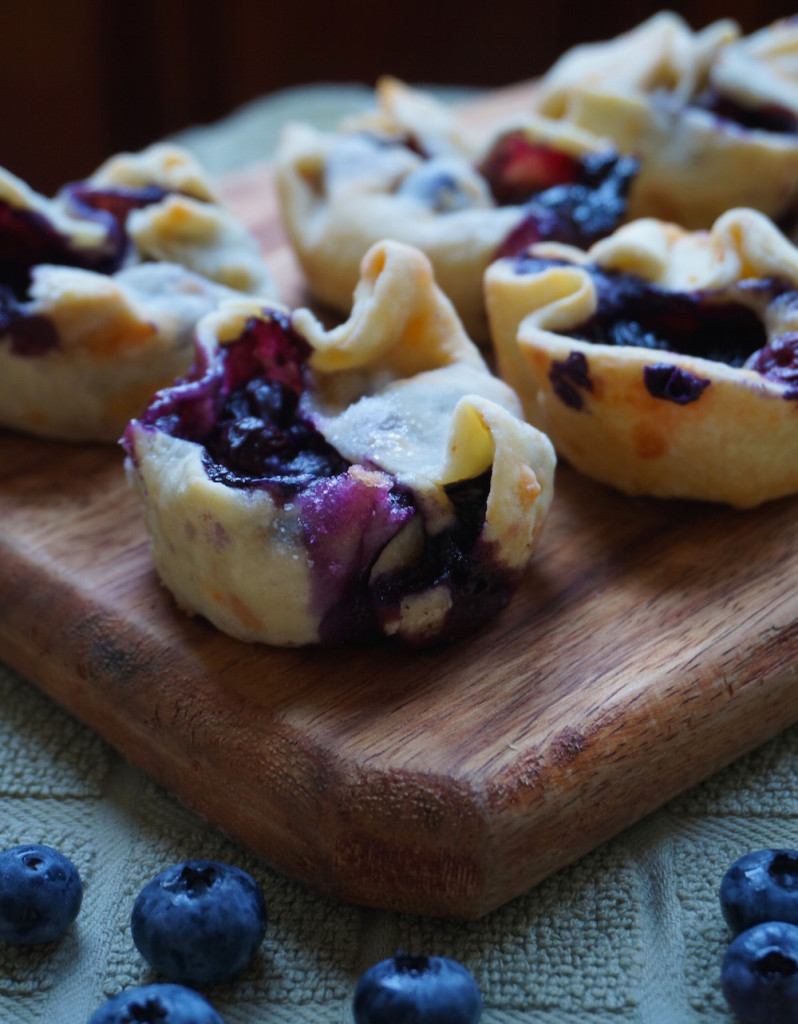 Chilled Blueberry -CheeseTarts in Muffin Tins
Prep Time: 15 minutes
Total Time: 1 hour, 45 minutes
Ingredients
1½ cups flour
1 stick butter (minus one tablespoon)
1/3 cup Conebella Farm Cheddar, shredded
½ teaspoon salt
4 tablespoons water (or more as needed)
4 ounces Conebella Farm Cheddar Spread
1 1/2 cups blueberries
2-3 tablespoon sugar
Instructions
Mix flour and 7 tablespoons butter with a fork or pastry blender until it resembles cornmeal. Mix in shredded cheddar cheese and salt. Add water, a tablespoon at a time, until the dough comes together. Form it into a ball, wrap it in plastic wrap and place it in the fridge for 30-45 minutes.
Preheat oven to 350 degrees. Keep the blueberries in the fridge.
When chilled, roll out the dough about 1/8-inch thick on a floured surface. Use a cookie-cutter or wide-mouth jar lid to cut the dough. Then use the rolling pin to further flatten and stretch this dough so that it will be larger than the muffin tin cup.
Spoon out a dollop of cheddar spread for each tart (about 2 teaspoons). Mix blueberries and sugar and add blueberries on top of cheese. Fold the edges of the crust over.
Bake 30-45 minutes until the crust of tarts is golden brown. Chill for at least 30 minutes.