Forget Google.  Throughout any given day, I'll often think to myself, "I should ask Dad that.  Dad would know."  While he has never made a project of reading through an encyclopedia, like one of his good friends did, he has picked up a nearly encyclopedic knowledge of how things work in the natural world and in the world of engines and machines.  If I want to know how something works or why something happens, I'm calling Dad.
Since there's a lot I don't know, the urge to ask Dad occurs frequently, so I find myself thinking of my father often.  This June, I'll get to see him, and on Father's Day no less.  And I've figured out a delicious Father's Day picnic meal that we could have as the family gathers.
If your dad has requested picnic fare this Father's Day, here's an easy, unique and–of course–amazingly cheesy meal to enjoy as a family: Double Cheddar Sliders with Roasted Red Pepper Remoulade.  (You can dare your dad to say "Roasted Red Pepper Remoulade five times fast!)
The wonderful cheesiness of these mini burgers begins with grated Conebella Farm Sharp Cheddar cheese mixed in with the burgers themselves.  Mmm!  From there, it's only a matter of how thick you want to slice that delicious cheddar cheese topping that officially makes it a cheeseburger.
The remoulade's combination of cheddar, cilantro, red pepper and chili powder was inspired by my favorite quesadillas.  You can invent a lot of tasty meals, for special occasions or otherwise, by considering the basic combinations in your favorite recipes–like tomato and basil, or mushroom and sage– and applying them in new contexts.  And speaking of tomato and basil, Conebella Farm's Tomato Basil Cheese Spread is back for the summer!
The remoulade came together especially quickly because I'd roasted the peppers in advance and kept them in a sterilized jar, filled with olive oil and ready to use.  In a sterilized jar, roasted bell peppers should keep for a month or more.  I always roast several bell peppers while I have the oven heated up, since they are handy to throw into recipes.  Here's how to prepare them:
Roasted Red Peppers
1. Quarter several red bell peppers and remove the top and seeds.
2. Place in a glass pan or on a baking sheet, drizzle with olive oil and roast at 450 for 30 minutes, then turn and continue roasting until peppers are soft and the edges are blackened.
3. Add roasted red peppers and peeled garlic to a sterilized jar, packing them well. Pour olive oil over all.  Use a table knife to swirl the peppers around so they are coated with olive oil.
4. Refrigerate.  In the fridge, the olive oil may congeal, so pull the jar of roasted peppers out of the fridge about 20 minutes before you need to use it.
Note: The olive oil can also be used in pasta dishes and any other meal that would thrive on a burst of red pepper flavor.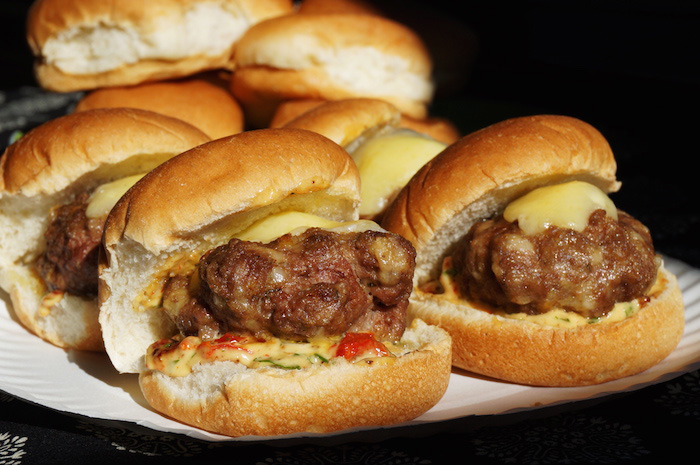 Double Cheddar Sliders with Roasted Pepper Remoulade
Ingredients
SLIDERS:
1 pound ground beef
1/3 cup grated Conebella Farm Sharp Cheddar
1 egg
3 tablespoons Italian-Style bread crumbs
REMOULADE:
1/3 cup mayonnaise
handful of cilantro, chopped
2 roasted peppers, minced
a dash of chili powder
salt and pepper to taste
SLICE OF SHARP CHEDDAR FOR TOPPING.
Instructions
Mix ground beef, grated Conebella Farm Sharp Cheddar, egg and bread crumbs until thoroughly combined. Grill on a medium-hot grill, 4-6 minutes per side. Place a slice of sharp cheddar cheese on top and allow to melt.
To make remoulade, combine all ingredients until well mixed.
Spread remoulade on toasted slider rolls. Makes approximately 10 sliders.