When I picture spending Mother's Day with my family, I imagine breakfast scenes: conversations, stories and puns as we fill up mug after mug of coffee or tea and hope that soon we'll have room for another serving.
If I'm home for a special occasion, like Christmas or Thanksgiving or any time the whole family comes together, my parents work in the kitchen, in harmony.  Mom makes batter for Belgian waffles, rich with cheese.  She slices strawberries and gathers the maple syrup, peanut butter and whipped cream.  My dad starts the coffee and then ladles batter into the waffle iron.
Breakfast seems like the right meal for Mother's Day because it's a meal my parents have so often made together, dividing the work so that Mom can spend more time with her kids and grandkids.
It's been a while since I've been home for Mother's Day, but if Mom and I could visit for a while this weekend, I'd make her some savory crepes.
Crepes sound so elegant.  But you want to know a secret?  They're easier than pancakes.  And I've broken my Belgian waffle maker.  Okay, so that's two secrets.  And I didn't exactly break my waffle maker as much as I coated it with oil once when the waffles seemed to be sticking, and then the oil turned into glue that won't come off after countless soakings and scrubbings.  True kitchen confessions.  So, my waffle maker's out of commission and my pancakes tend to burn, but crepes I can manage.  And I'm glad because they do add that touch of elegance that Mom deserves.
The other thing about crepes?  You can fill them with just about any food you love.  If Mom's love for breakfast is all about satisfying the sweet tooth, you can make sure hazelnut spread, whipped cream, bananas, berries and diced apples with cinnamon are on the table, ready to fill those crepes.  If Mom's in the mood for a hearty, ham and cheddar kind of breakfast, you can opt for savory crepes, like these buckwheat crepes with ham, cheddar, mushrooms and spinach.
Okay, it's been one paragraph since the last confession, so it's time for another one.  The thing is, I'm not sure if I'm a gung-ho buckwheat crepe person.  You can find a lot of buckwheat crepe recipes that will make good use of that special buckwheat flour you just bought for the occasion, but, to my humble palate, strong buckwheat crepes have a weird mushroomy flavor.  And since I wanted to add mushrooms to these crepes anyhow, I decided to tone down the buckwheat flavor and turn up the cheddar flavors (amen?!) with a cheddar-rich béchamel sauce and a sprinkling of grated cheddar.
So this is a recipe for buckwheat crepes "lite," and my humble palate says it's just the right combination of buckwheat, ham, cheddar and vegetables.  If you're making Mother's Day brunch, I hope that this delicious feast day breakfast will make its way to your table.  If you're the Mama, hopefully you can share this recipe with the family chef and sit back and enjoy it!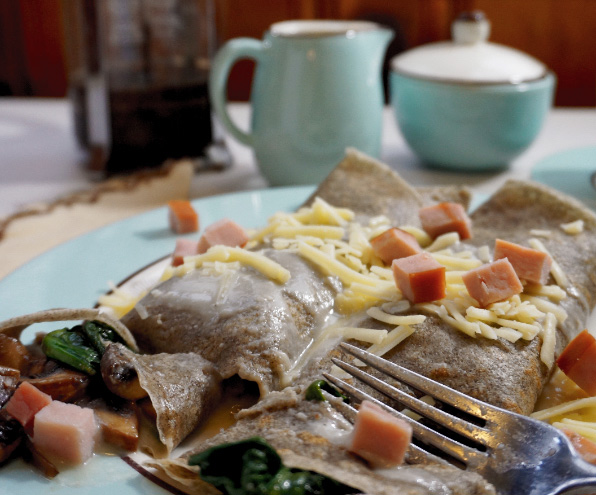 Ham and Cheddar Buckwheat Crepes
Bechamel sauce inspired by the Joy of Cooking; crepes recipe inspired by Allrecipes.com. This recipe makes 6-8 crepes and about 1 cup of bechamel sauce. The amount of ham, sauteed spinach and mushrooms can be adapted to suit your family's tastes.
Ingredients
BECHAMEL SAUCE:
2 tablespoons butter
2 tablespoons flour
1 cup milk
salt and pepper
dash of allspice
1/3 cup grated Conebella Farm cheddar cheese
CREPES:
2 eggs
1/2 cup milk
1/2 cup water
3/4 cup all-purpose flour
1/4 cup buckwheat flour
1/4 teaspoon salt
2 tablespoons butter, melted
oil for pan
FILLING:
cooked ham, diced
sauteed onions, mushrooms and spinach
grated Conebella Farm Cheddar Cheese
Instructions
BECHAMEL SAUCE:
In a saucepan, melt butter over low heat and once it has melted, gradually add flour, mixing well. Remove from heat. Slowly add the milk. Return to low heat and add cheese, stirring until melted being careful not to overcook. Once the cheese has melted, add allspice and salt and pepper to taste.
CREPES:
Mix the flours and salt together.
In a large glass mixing bowl, whisk eggs, milk and water until eggs are smooth. Gradually add flour mixture, whisking with a fork until there are no lumps.
Preheat a crepe pan or medium-sized nonstick frying pan and add a little oil (a little goes a long way and too much will make a very greasy and oddly-shaped first crepe).
Add the melted butter to the crepe batter and stir to combine.
Over medium heat, add one ladle-full of crepe batter to the center of the pan. Quickly pick up the pan and swirl it once to coat the bottom of the pan evenly with batter.
Cook for 2 minutes, then flip the crepe and cook for another 2 minutes on the other side.
SERVING:
Add fillings and drizzle warm bechamel sauce over fillings. Gently wrap the crepes into a tube-like shape and sprinkle grated cheese on top, along with a little ham and/or more béchamel sauce if desired.