The author Clifton Fadiman once wrote that cheese is "milk's leap to immortality."  Cheese-making is a baffling, nearly magical process.  From three ingredients– cultured whole milk, salt and enzymes–come the cheddar and Colby that make Conebella Farm Cheese a local favorite.
I guess it's no accident that back when my husband and I were dating, cheese took center stage in many of the meals I made.  When you're dating someone, you want the ordinary to become magical.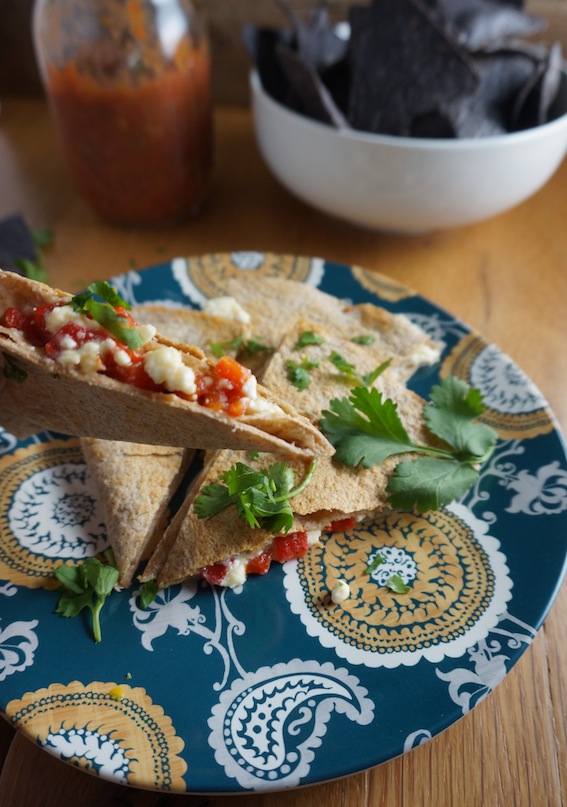 One of the meals we both remember best is cheddar and feta quesadillas, which we ate in his sparse bachelor-pad living room, probably while watching Seinfeld or Arrested Development.  The ingredients for this recipe were so simple that its spicy-creamy-tangy combination took us completely by surprise.  "I love this," Sean said.  (A month or two earlier, he'd told me he loved me, so I didn't have to be jealous of the cheese.)
The recipe blends piquant cheddar and creamy feta, much like classic Conebella Farm Cheese Spreads combine cheddar and Colby.  As for the roasted red bell pepper this recipe calls for, you can buy them, or you can roast them yourself by dousing them with olive oil and spreading them on a baking sheet at 350°F for 20-30 min minutes, or until they're soft and wrinkly and slightly browned on the bottom and edges.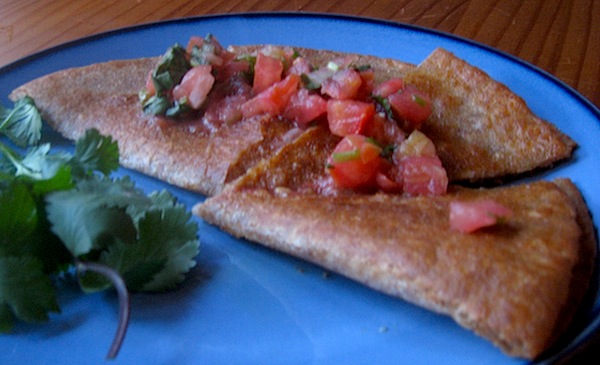 Cheddar & Feta Quesadillas
4 whole wheat flour tortillas
1 cup Conebella Farm cheddar cheese
3/4 cup feta cheese
1/2 large red bell pepper, roasted and cut into ribbons (you can also buy roasted peppers in a jar)
A few pinches of chili powder
A few tsp chopped cilantro
oil for frying
Mix feta and cheddar cheese together, lay out the tortillas, and top each with a generous spoonful of cheese.
Drop it off-center, leaving a wide margin around the edge.
Top each dab of cheese with a pepper ribbon or two, a pinch of chili, and a few scraps of cilantro.
(I'm always pretty spontaneous about how much of each goes into each quesadilla.)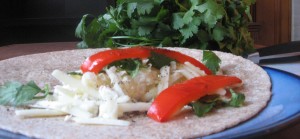 Fold the tortilla in half to enclose the filling.
Heat about 1/4 to 1/2 inch of oil in a large frying pan.
Fry each quesadilla for a few minutes on each side, until the filling melts and the tortilla crisps and browns.
Top with sour cream, avocado or salsa.  This recipe is also great as a side dish to serve with taco salad!
Article written by Rebecca Talbot and coordinated by VanDuzer Design & Marketing for Conebella Farm Cheese.