September provides the last chance for worry-free grilling. It's the last month to invite friends and family to a picnic without fearing that there'll be a sudden chill and you'll all huddle around the grill wearing coats.
And there's still so much fresh produce to grill. For veggies, we're still chomping sweet corn, squash, potatoes, peppers, onions and mushrooms. On the sweeter side, we can still find peaches and nectarines, and of course we're all craving apples and pears, which are delicious grilled or wrapped in foil and roasted on the campfire.
It's an ideal time to enjoy the warmer colors of fall and the cooler weather that's really coming, any day now, right?
A favorite grilling recipe of mine is one my sister-in-law introduced to my family. She slices potatoes and onions and wraps them in foil with a few pats of butter and a few handfuls of cheddar cheese. It's crispy and cheesy and I wish I could grill every night and make it.
But even though I love to grill and find it satisfying to discover a hooded sweatshirt that, on the day after the party, still smells like the campfire, the sad truth is that, as a city dweller, I rarely participate in activities involving fire.  There are compensations, like getting to eat delicious locally sourced meals on rooftops overlooking the skyline, but I do miss the ease of the patio grill and the taste of charred marshmallows.
That's why this Labor Day weekend I was pumped to hang out at my friends' garden in the suburbs. This isn't just any backyard garden in the 'burbs. This is a lot my friends found on Craigslist and turned into a garden so productive they were able to run a CSA out of it.  As their CSA came to a close, it was time to gather at the garden, harvest its bountiful greens, leeks, tomatoes and herbs and fire up the grill.
I'd been waiting for months to try a recipe quite similar to my sister-in-law's grilled potatoes. This variation incorporates cheddar cheese, bacon, garlic and sage.
With a grill so close at hand, it was the perfect time to chop up some veggies and wrap them in foil: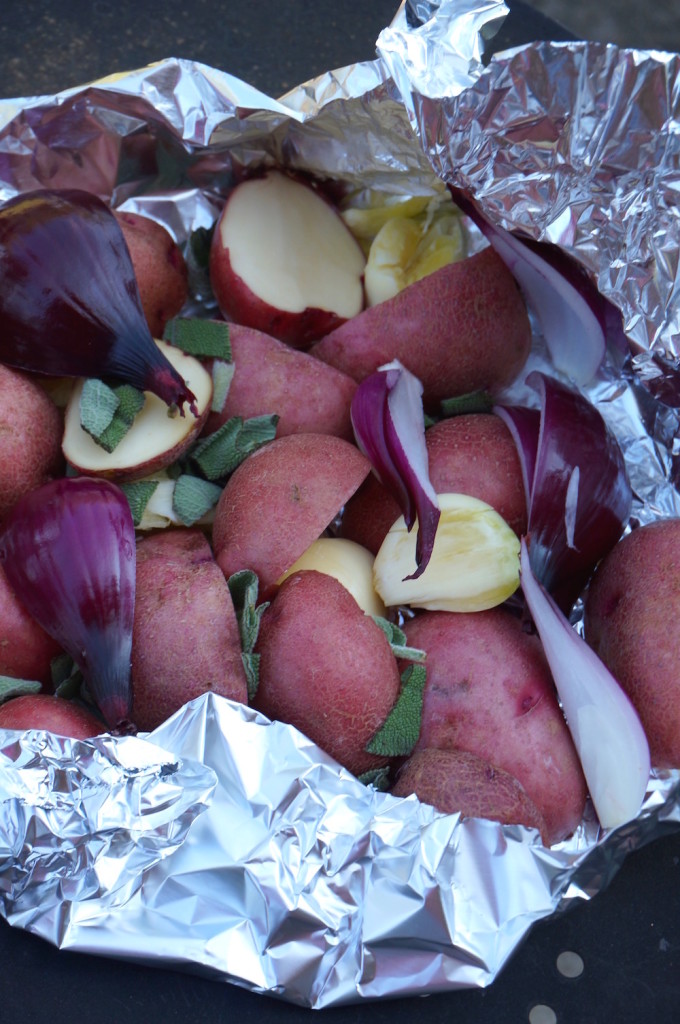 Drizzle the veggies with olive oil, wrap it all up, and throw them on the grill: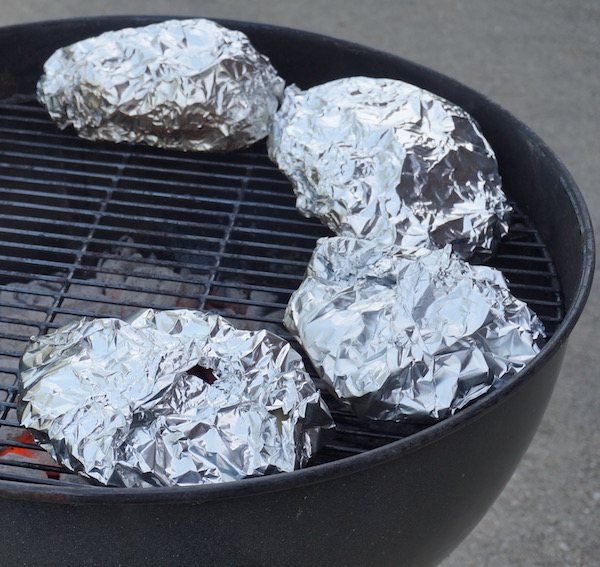 Go explore some nature, since potatoes take a while to cook: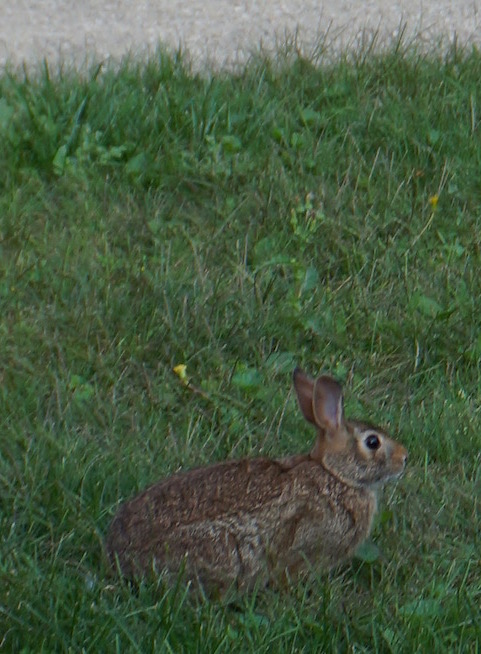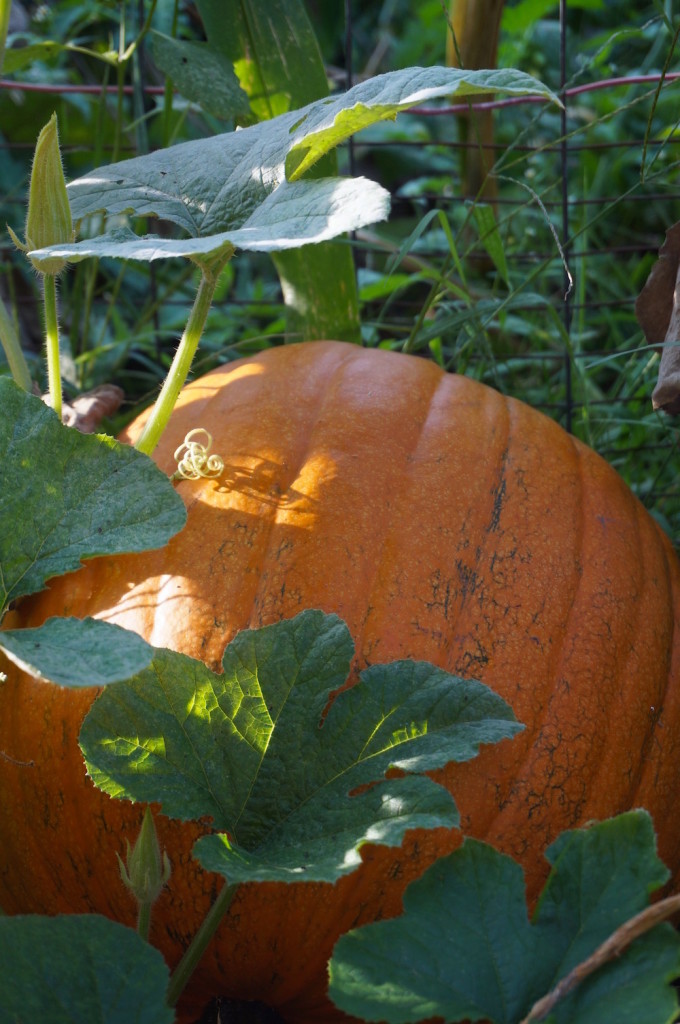 Then pull the foil packets off the grill and add bacon: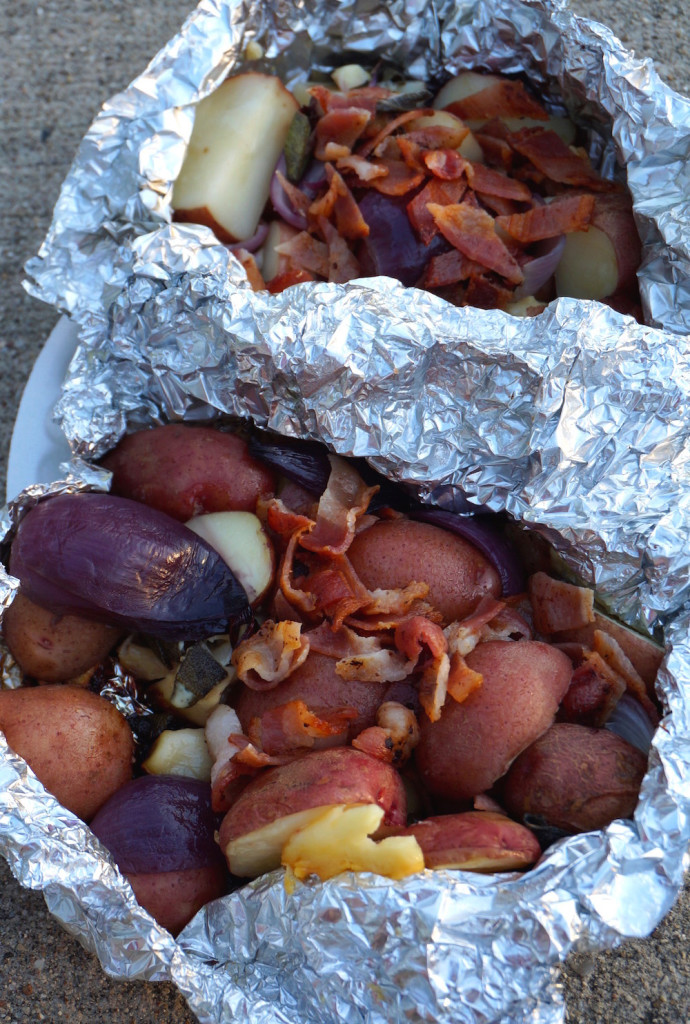 This was so easy that most of the prep for the potato-cheddar grill packs could be done at the garden. No kitchen access needed. Beforehand, in my kitchen, I cooked the bacon and washed the veggies. At the garden, I chopped the potatoes, peeled the onions and garlic, snipped the sage with kitchen shears, and sliced the cheese. (As you can see, I didn't exactly achieve "minced" sage while assembling this meal in the great outdoors.)
After making this once, I would alter two things.
First, I would recommend actually mincing the sage and adding it at the end, along with the bacon, because some bites of this grilled herb tasted too sour to me. My husband did say he liked the taste of the grilled sage. He's pretty easy-going like that.
Second, I would add the cheese at the end, too. The first time I made this, I added the cheddar in with the potatoes, onions and garlic. One of my friends asked, "Won't the cheese stick to the foil?" "No!" I replied. "The olive oil will keep it from sticking!"
Well, my friend was right, and cheese is precious, so I later added cheddar at the end and let it melt over the hot potatoes: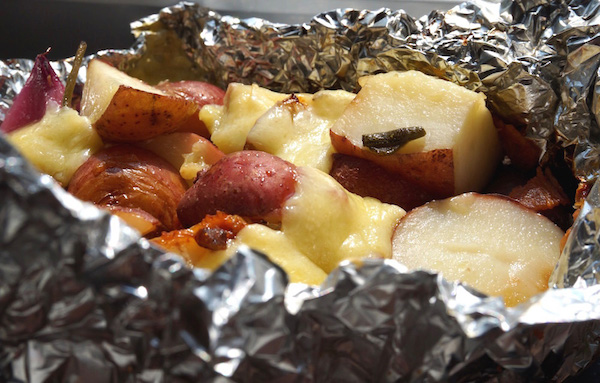 Grilled Potato and Cheddar Packs
Prep Time: 10 minutes
Cook Time: 30 minutes
Total Time: 40 minutes
Ingredients
12-16 red potatoes, washed and cut into chunks
6 small red onions, washed, skins removed, cut into quarters
1 tablespoon minced sage
6 garlic cloves
6 bacon slices, cooked and crumbled
6 ounces Conebella Farm Sharp Cheddar or Garlic and Chive Cheddar
olive oil, for drizzling
salt and pepper to taste
MATERIALS: Aluminum foil, grill-safe tongs or spatula.
Instructions
Spread out a sheet of aluminum foil that will be big enough to wrap around desired amount of ingredients. Place potatoes, onions and garlic on foil and drizzle with olive oil. Wrap tightly with foil and grill on medium heat 20-30 minutes until potatoes are soft.
Remove packets from grill with a spatula or tongs. Using tongs or a fork, unwrap the cooked packet and add sage, bacon and cheddar. Cover loosely with the foil so the cheddar melts and the bacon warms up.