Did you know there's an entire festival devoted to bacon? We all knew that bacon was worthy of such devotion, especially when paired with rich, creamy cheddar cheese, but this week I just found out that Easton, PA is the home of the PA Bacon Festival.
But, wait, there's more good news. Conebella Farm Cheese will attend this popular savory event on both days it is held: Saturday, November 7 and Sunday November 8, 2015!
But if you are a bacon-lover, you might be thinking that November still feels a long way away. Never fear! Here's a delicious way to enjoy bacon-cheddar flavors in the meantime: a Loaded Bacon-Cheddar Dip, wonderfully cheesy, a little spicy, and perfect for autumn gatherings. (If you're wondering where all your guests are at your next party, look for them at the table that holds this cheese dip.)
Since you'll have the oven going anyway to bake this cheesy dip, it's super easy to cook a few slices of bacon beforehand using this method. And if you're looking for DIY inspiration, make your own Cajun seasoning for this recipe.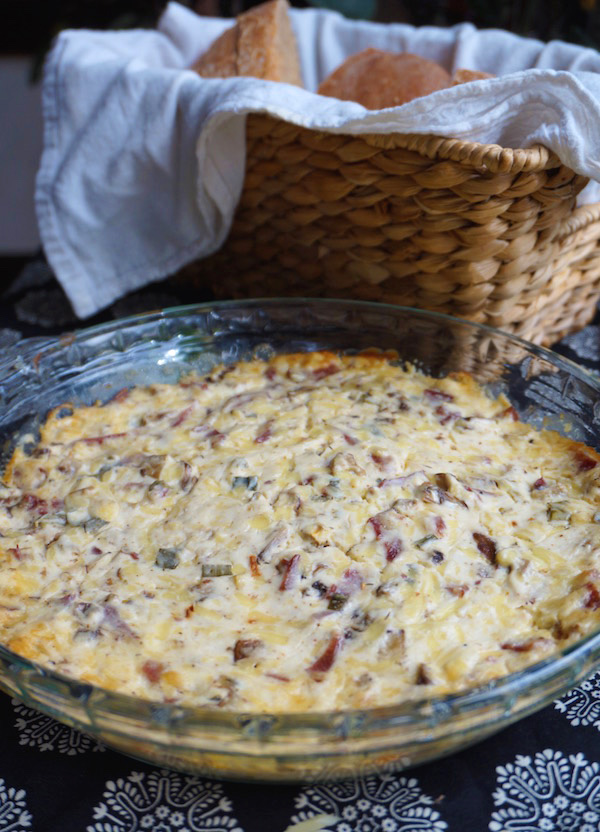 Adapted from Pizzazzerie.
Ingredients
6 ounces Conebella Farm Sharp Cheddar, shredded
4 ounces Conebella Farm Bacon Cheddar Chive spread, softened
1-2 tablespoons diced green onion
1 teaspoon minced garlic
1/2 cup plain Greek yogurt
1 teaspoon Cajun seasoning (make your own following the recipe above)
3 tablespoons diced cooked bacon (or more to taste)
1/3 cup chopped sauteed baby bella mushrooms
Instructions
Preheat oven to 350 degrees F.
Stir all ingredients together in mixing bowl.
Spread into a pie dish. Bake for 30-35 minutes or until cheese on top turns light gold.
SaveSave
SaveSave