A year ago, Doug Reeser was thinking of moving across the country. He was wrapping up a doctorate in Anthropology, and he knew that securing a teaching job would probably require a move away from southeastern Pennsylvania.
Instead, a once-in-a-lifetime opportunity came his way, and he decided to stay local. With his brother-in-law, who shared his passion for home brewing, he started a local brewery. They wanted to start it on their terms, with no investors. When they thought about how to create the actual pub, they thought about the kind of brewpub they would be excited about going to. As vegetarians for over twenty years, Doug and Kevin knew they wanted their brewpub to offer organic, locally sourced food.
They started Hidden River Brewing in Douglassville, and now, every Thursday, Doug drives within a 15 mile radius to restock for their menu (they're open Thurs – Sun).
Building on their original idea of offering organic, locally sourced food, they built Hidden River Brewing into a place that would support other businesses and be a gathering place for the community.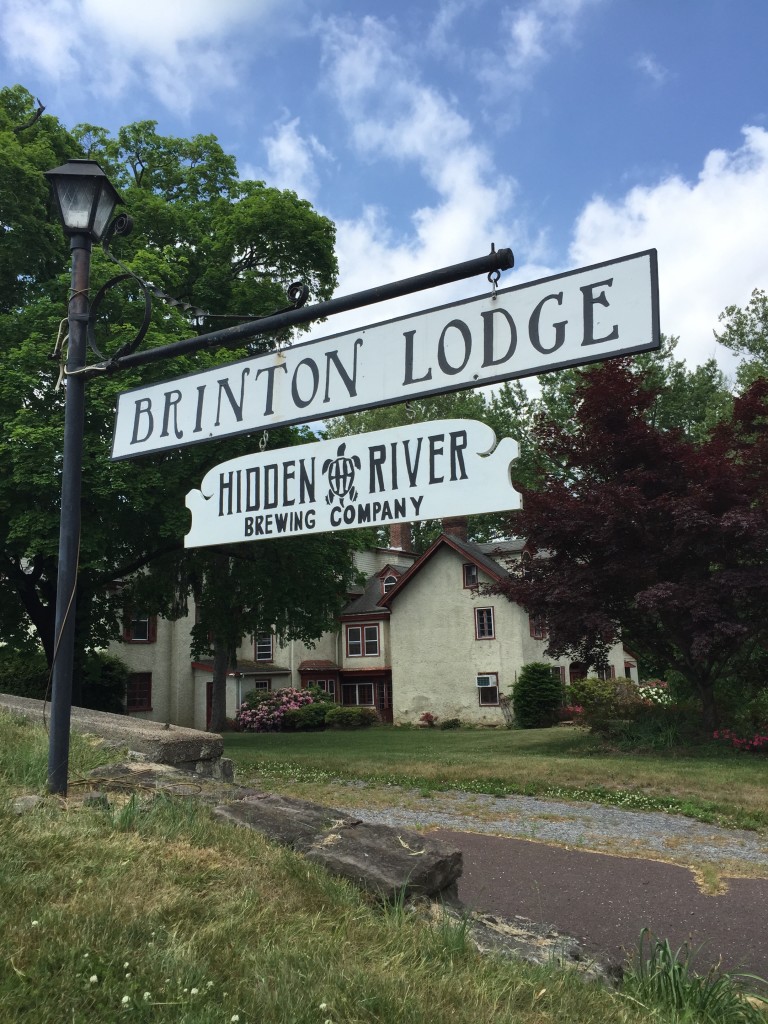 "It's a ton of work," Doug admits, though you can hear the optimism in his voice even as he says it. He says he works crazy hours. It's all-consuming, which is part of what keeps him going on hard days: no time to think about anything else! He's also kept afloat on a sea of unlimited creativity. He enjoys the chance to experiment with different beers.
Supporting Farmers & Local Businesses
Like their food menu, their beers use locally sourced herbs, fruits and hops. They create beer elixirs, such as herbal IPAs. "We're having fun," says Doug. They have met all of their producers, from the local farmers to the bakers at St. Peter's Bakery.
Hidden River Brewing reflects what's available in the community, showcasing it, using the community's prodigious agricultural output into amazing meals and beers. The food menu changes with the seasons and with Doug's findings in his 15-mile drives. He likes that it keeps them on their toes.
Similarly, they don't have "flagship beers." In the 50 batches they've produced for Hidden River, they have not yet brewed the same beer twice. Recently, they received 60 pounds of sweet potatoes from a local farmer. "What will we do with 60 pounds of sweet potatoes?" they wondered. They decided to fire roast them and make a Sweet Potato Saison!
A Community Gathering Place
The brewpub not only supports local farmers and businesses, it has fulfilled its owners goals of becoming a community gathering place. To facilitate conversations, Doug and Kevin decided they would not install TVs. They've watched people meet others, as customers become regulars. Even some of their producers have stopped by, and some visit regularly. "That's really rewarding," says Doug. He loves to see people enjoying both the food and the beer. "We're on to something," he says.
The Conebella Connection
At first, they didn't know about Conebella Farm, but they knew they wanted to offer hard cheeses in addition to soft. They found Conebella Farm Cheese at Weaver's Orchard while browsing the cheese case. "Oh, there's a farm in Elverson that makes cheese!" they realized.
Conebella Farm Cheese has been on the menu for about half the time the brewpub has been open: one and a half months. They've used every kind of cheddar and Colby block Conebella Farm Cheese is making right now, and serve it on their panninis and cheese board or charcuterie plate.
Three weeks ago, they made it to the farm for a visit. They met Don and Pam, and loved the fact that they were working with a multigenerational farm.
Looking Ahead
Their goals for the future are to get through winter. To prepare for the coming winter, Doug and Kevin have been canning and pickling fresh vegetables.  When spring comes, they want to able to use the outdoor space even more than they did this past summer. They want to have a tiki bar and expand the outdoor sections.
They also want to grow their brewery capacity and begin fermenting their beer with native yeasts that are indigenous to this area. Eventually, they are considering opening a farmers market or giving a CSA a home in the brewpub.