Coleslaw often gets sidelined.  Choosing it as your side at a restaurant earns you a few tablespoons of slaw in a flimsy plastic cup.  Coleslaw deserves so much more, and recently Conebella Farm Cheese customer Brandon Hertzler used Conebella Farm Sharp Cheddar to elevate this cabbage salad.  He created a spicy, colorful and flavorful dish so good you'll want to serve it by the bowl-full, not by the tablespoon!
Conebella Farm has been important to Brandon Hertzler ever since he first worked for Weaver's Orchard at the Elverson Farmers Market in 2010 and got to know Don and Pam Gable, who co-managed the Elverson Farmers Market and were operating the Conebella Farm Cheese stand there.
"As a person who has agriculture on all sides of their family," says Brandon, "I respect the Gables so much for their day-in and day-out hard work. They love what they do and are the most genuine people you'll ever come across."
As for the cheese itself, he says, "What I appreciate most is their commitment to Colby and cheddar cheese. They have learned how to make superior blends of these cheeses and they're always incorporating new and exciting flavors. I appreciate how they are a company that is committed to getting people 'into' cheese. Everybody knows about Colby and cheddar, and this allows for almost like a gateway opportunity to get people to try their product. The unmistakable quality makes these familiar varieties anything but your common cheese."
As he worked at Weaver's Orchard, one of over 20 stores to carry Conebella Farm Cheese, Brandon forged friendships with local vendors.  He talked with local vendors at various farm stands, and locally-sourced food became important to Brandon.  He began working for Weaver's Orchard in the summer of 2008, while he was in college and now, as a teacher at Twin Valley High School, he returns to Weaver's in the summers and was the recent emcee for their summer cooking classes.  "Constantly being around food and talking with various customers about how they use food has given me a lot of insight and creative ideas to enhance the already fantastic quality of the food that is coming right out of our area."
Even before he began working so closely with local food producers, Brandon says, "I've always enjoyed making food. My dad would often make us pizza from scratch that all of our friends were envious of. On Saturday and Sunday mornings he would also throw together a pretty incredible breakfast of pancakes or eggs or whatever we wanted."

But it wasn't just his dad who was a good cook, either: "Growing up I never realized how good of a cook my mom was and how awesome it was that she frequently made us food until I started going over to other people's houses and realized that the majority of their meals were takeout or pre-prepared. Both sides of my family enjoy good simple food that is intentionally created and it is always a key component of any of our get-togethers."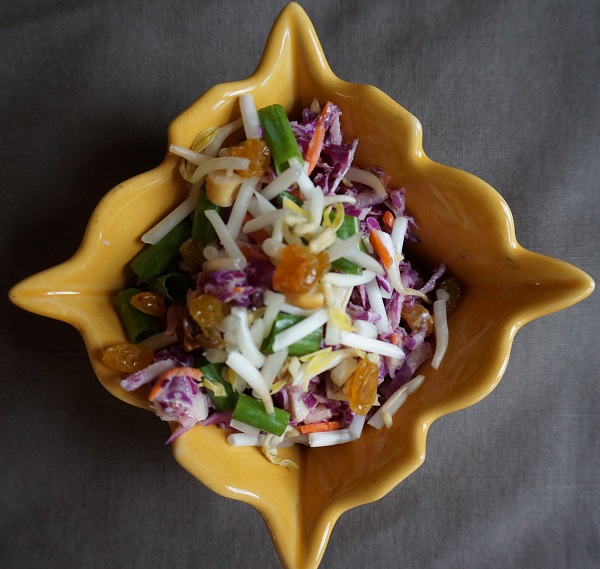 Here is Brandon's Curry-Cheddar Coleslaw, made from scratch with a wealth of healthy local ingredients.  Because it can be made with nonfat Greek yogurt, it is not only more flavorful than your average coleslaw, but also even healthier!
From the kitchen of Brandon Hertzler
Ingredients
1 medium red cabbage
4 carrots
3 celery stalks
1 large Honeycrisp apple
1 1/2 cups Conebella Farm Sharp Cheddar, cubed
1/3-1/2 cup of cashews (halves and pieces)
DRESSING:
1 - 1 1/2 cups plain Greek style yogurt
3-4 tablespoons Bragg's Apple Cider Vinegar
2 tablespoons honey
1 teaspoon curry powder
½ teaspoon cumin
¼ teaspoon smoked paprika
2-3 tablespoons extra virgin olive oil
Enough Salt and Pepper to taste
TOPPING:
2 scallions
1 cup raisins
1 case of pea shoots, sprouts, or nasturtium (sprouts and nasturtium will add a peppery flavor)
Instructions
To prepare vegetables, shred most of the cabbage and all of the carrots in the food processor on a fine setting. Dice up celery, apples, remaining cabbage, and cashews (if desired) to various sizes to add texture to coleslaw. Add cubed cheddar.
To prepare the dressing, combine all dressing ingredients in a large mixing bowl. Adjust flavor to your liking; add more vinegar for a more acidic flavor, add more honey or even brown sugar to give a sweeter flavor.
Combine all ingredients, except topping, together in a large mixing bowl. Add in raisins, finely sliced greens of 3 scallions, and chopped up pea shoots.
Serve on the spot or wait a few hours.