What would a baked potato be without cheddar cheese?  Or scalloped potatoes without those delicious crispy bits of cheese and potato that you're determined to pry off the side of the casserole dish?  And then there's those cheese fries you sneak at the country fair, or the homemade potato bread topped with cheddar…. Yes, what a delectable match this is.
This Loaded Baked Potato Soup makes the most of this match.  If you like the way cheddar and a baked potato complement each other, this soup has all that flavor and more.
The first time I made this soup, I cut the recipe in half.  After all, my fridge was getting full and I didn't think I could throw a creamy potato-based soup in the freezer.  At the time, it seemed like the responsible decision, but two days later, I was roaming the house, craving more of it, digging around in the fridge, and not uncovering that storage container I was hoping to see.  I was amazed at how delicious this soup was.  (My husband then pointed out that a soup made with heavy whipping cream and topped with cheddar cheese and bacon was bound to be tasty.)
I've since tripled the recipe to serve to a large group of college students.  It provides a good, hearty meal for a crowd and, good news for the cook, you can bake the potatoes a day ahead.  And, on days when you have leftover baked potatoes lazing around, let them find a new occupation as ingredients in this soup!  Vegetable odds and ends can also find new meaning in life as the basis for an easy homemade vegetable broth that serves as a base for this soup, making this soup quite frugal as well as delicious.
When dinner time rolls around, round out the soup with a side of steamed broccoli.  Since broccoli works so well with baked potatoes, it's a worthwhile healthy side for this soup.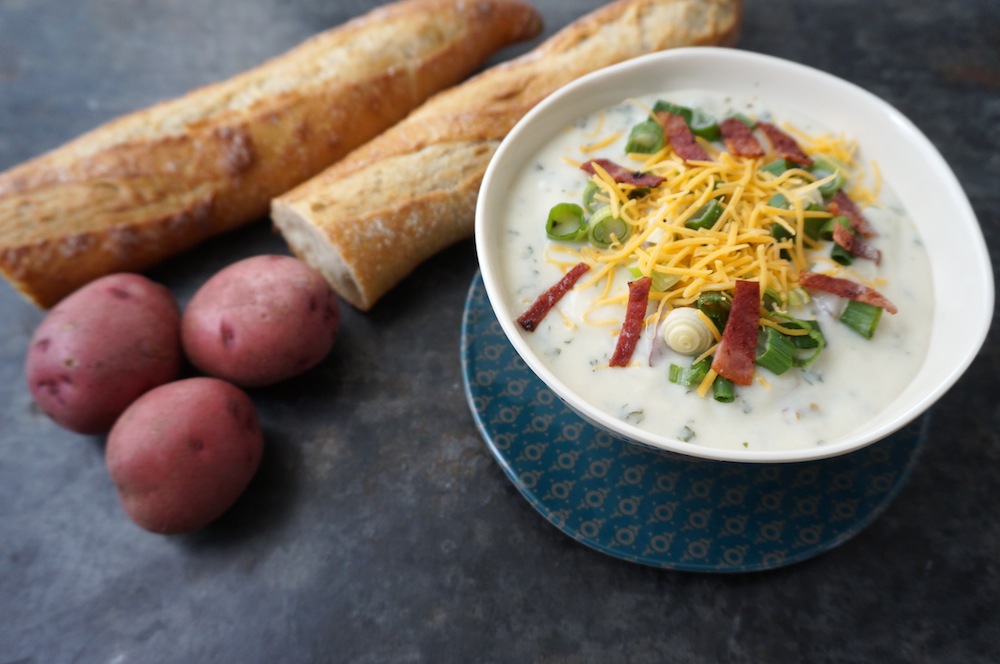 Loaded Baked Potato Soup with Conebella Farm Cheddar
Ingredients
4 baked potatoes, cubed
1 yellow onion, chopped
3 tablespoons olive oil
6 cups vegetable broth (see recipe below)
1 1/2 cups heavy whipping cream
1/2 cup low fat or fat-free yogurt
Salt and pepper to taste
TOP WITH:
Chopped fried bacon
Green onions
Conebella Farm Cheddar
Instructions
In a large soup pot, saute onion in olive oil over medium-high heat until onion is soft, about three minutes. Add baked potatoes and broth and simmer for 5 minutes. Mix in cream and yogurt until heated but not boiling.
Allow soup to cool slightly, then puree half of the mixture in a blender until smooth. Mix pureed portion with the rest.
Sprinkle with salt and pepper and top with desired toppings.
BROTH: Saute 6 cups of your favorite vegetable odds and ends in butter in a soup pot until soft. (Well-scrubbed ends of onions, onion skins, carrot tops, celery leaves and other scraps work very well for homemade broth.) Add 6 cups water and 4 chopped tomatoes. Simmer for at least one hour.