"Are you going home this weekend?" I asked the classmate sitting next to me in the computer lab.  She was a tough, serious girl with black hair.  She'd sewn punk band patches to her book bag.
"Yup," she said.  "And I can't wait.  My mom's making stuffed peppers."
I was surprised that the tough girl had a soft spot for stuffed peppers, and I was also surprised to learn that such a meal existed.  I'd never tasted stuffed peppers before.
About seven years later, I got to try a new twist on traditional stuffed peppers: Mexican stuffed peppers.  My husband and I had started visiting a church in University City in Philadelphia, and when a few couples around our age learned that we were driving in from Morgantown, PA, about an hour away, they invited us out for meals or over to their homes after church.
In a vintage apartment not far from the University of Pennsylvania, a tall, sandy-haired woman let me help her assemble stuffed peppers and a salad with ingredients she'd just received from her CSA.  She made a meal almost entirely out of vegetables, with legumes for protein and cheese to bring it all together.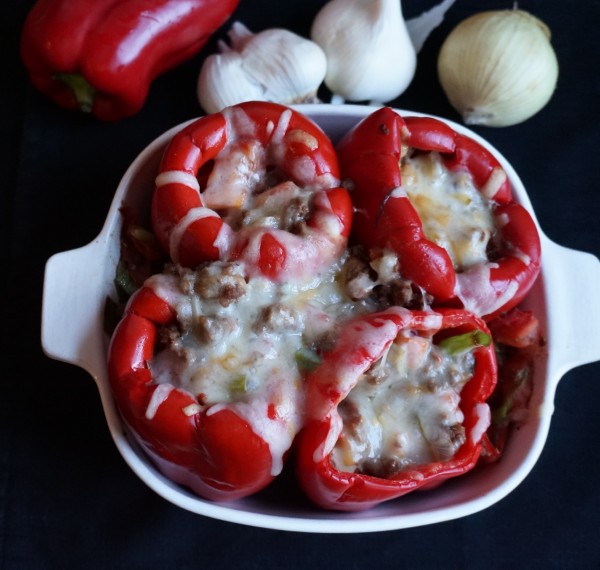 As we cooked together, she introduced me to the incredible Mennonite cookbook Simply in Season, and she also introduced me to the variety and flavor that can come alive when you cook with local ingredients.  I was fascinated by the purple and white carrots that graced her counter-top.  It made me wonder what other flavors and colors I was missing out on when I chose the supermarket varieties instead of locally-produced food.  When I tried to picture carrots, they were always orange.  When I pictured potatoes, they were usually the Idaho variety.
It's the same with cheese.  Say "cheddar" and people probably tend to think of either mild or sharp, usually orange, maybe white.  Say "cow" and people will probably picture a black-and-white Holstein.  (And no wonder, since they make up about 90% of dairy herds in the U.S.!)   However, there are over 20 breeds of dairy cows, and twelve or more of these can be found on North American farms.  How many can you name?
If you've never had raw milk cheddar or Colby from Ayrshire cows, you might be surprised at how creamy and buttery it tastes.  Whenever I eat Conebella Farm Cheese, I always slow down and savor the creamy texture and delicate flavors.  Lisa Ferraro Klinge, who makes Conebella Farm's cheese spreads, says that you can taste the seasons in this raw milk Ayrshire cheese:  The cheese is "beautiful, with a slightly grassy finish," she says.
Recently, I received a block of Conebella Farm Smoked Cheddar and decided to play with a recipe for Smoky Stuffed Peppers.  The blend of Smoked Cheddar and chipotle peppers, a smoked version of the jalapeno, gives this recipe a perfect autumn flavor.
Smoky Stuffed Peppers with Conebella Farm Smoked Cheddar
Ingredients
4 bell peppers, any color you wish
1 pound lean ground beef
1 small yellow onion
2 garlic cloves
3 plum tomatoes, chopped
1 chipotle pepper (or more, depending on desired heat)
2 green onions, chopped
Taco seasoning (see link below)
1 tablespoon fresh oregano
1 teaspoon ground cumin
1/2 cup Conebella Farm Smoked Cheddar, grated
Instructions
Preheat oven to 350°F.
Cut around the pepper stem to remove it and create an opening. Remove the seeds. Steam the peppers in a pot of boiling water, covered, for 5-7 minutes, until they are tender.
Meanwhile, brown the ground beef with garlic and onion. Drain and return to pot.
Add tomatoes, chipotle pepper and spices and simmer for 5 minutes. Stir in green onions.
Place the peppers in a baking dish that has tall sides. Sprinkle Conebella Farm Smoked Cheddar at the bottom of each stuffed pepper, add the meat mixture, and then top the pepper with the remaining cheese.
Bake for 20-25 minutes, until cheese has melted and peppers are heated through.
I tasted the meat mixture as it cooked and decided to add a little taco seasoning.  You can keep it healthy by using your own blend of spices to create your own taco seasoning.  And then enjoy this deliciously smoky, gluten-free, low-carb, vegetable-rich meal with delicious raw milk Conebella Farm Cheese!