Once a person has been cooking for a while, there are certain meals that become that cook's trademark.  A friend who lived down the street from me made the most amazing slow-cooked beef burritos.  My grandma made mac & cheese nobody else could replicate.  My sister makes homemade gnocchi served with spaghetti sauce she cans herself.  My mom always has a crock pot full of hearty beef stew ready for my husband and me when we arrive late at night after the long road trip home.
If there's a meal I'd like to have as my own trademark, it's Cajun Cheddar Chicken Pasta.  I try to introduce a lot of people to it, hoping to develop the association.  I think it's working.  My mom often asks me to make it when I come home.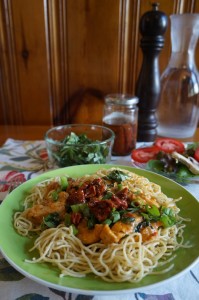 Recently, with summer in full-swing, I've discovered a few short cuts for this recipe.  One of them happens to be using Conebella Farm Tomato Basil Spread…  a shortcut that does not skimp on quality or flavor!  (I interviewed Conebella Farm's spread maker, Lisa Ferraro Klinge a few months ago and found out more about the all-natural process she uses.)
The other time-saver is to chop fresh basil ahead of time, so it's ready to throw in.  With those two items taken care of, this recipe can be on the table in about 15 minutes, and you– and the many guests who will no doubt be drawn to the smell of this spicy, cheddar-y delight–can be out enjoying the long summer evenings in no time.
This recipe originally called for heavy whipping cream and Parmesan cheese.  There are plenty of recipes that call for heavy whipping cream that could use Conebella Farm Cheese spreads instead.  Also, most recipes that call for cream cheese could use Conebella Farm Cheese spreads for even more flavor!
Cajun Cheddar Chicken Pasta
Ingredients
4 boneless skinless chicken breasts, cut into thin strips
8 ounces angel hair or spaghetti
1 tablespoon Cajun seasoning
2 tablespoons butter
4 chopped green onions
4-6 chopped sun-dried tomatoes
4 garlic cloves, minced
12 ounces Conebella Farm Tomato Basil Spread
2 tablespoons milk
1/2 cup fresh basil, chopped
Instructions
Boil pasta according to package directions.
While pasta is boiling, toss the chicken and Cajun seasoning in a bowl until chicken is coated.
Melt butter in a skillet over medium heat, add garlic and chicken and saute until chicken is no longer pink (about 5-7 minutes).
Add Conebella Farm Cheese, milk, green onions and sun-dried tomatoes and heat until cheese has melted. Stir in basil.
Serve over warm pasta.
* * *
Article written by Rebecca Talbot and coordinated by VanDuzer Design & Marketing for Conebella Farm and may also be syndicated on Fig: West Chester and Rachel's Farm Table.