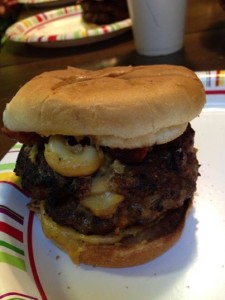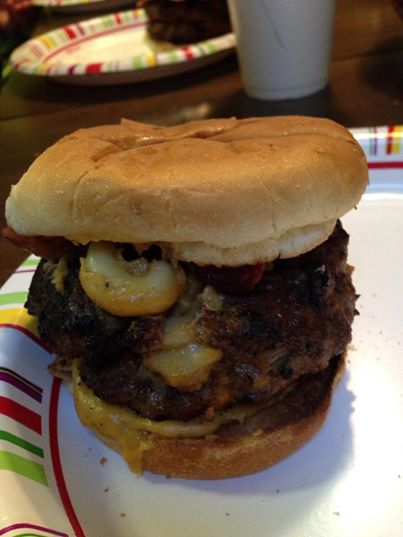 Contributed by Brandon Hertzler.
Ingredients:
Mac and Cheese:
Béchamel Sauce:
2 cups 2% milk
½ stick of butter
¼ cup flour
½ tablespoon garlic salt (or regular)
½ teaspoon each parsley, cumin and pepper (or to taste)
½ teaspoon each curry powder and smoked paprika
Other ingredients:
5 ounces elbow macaroni
1 cup Conebella Cheddar Cheese
1cup Conebella Smoked Colby
Burger:
2 pounds 80% lean ground beef
3 eggs
½ cup of Conebella Smoked Colby
½ tablespoon garlic salt (or regular)
½ tsp each curry powder, smoked paprika, parsley, cumin, ground pepper (or to taste)
½ sweet onion, diced and sautéed
Directions:
Béchamel Sauce:
Heat milk over medium high heat until just under a simmer.  Remove from heat.
Melt butter over medium heat. Add all spices when melted.
Add flour slowly, whisking constantly.
Slowly add milk to flour mixture, whisking constantly until smooth.
Set to medium high heat, continue whisking until mixture thickens, set aside
Macaroni:
Bring large pot of heavily salted water to boil.
Add macaroni and cook until al dente.
Final Steps:
Place 1/2 Béchamel Sauce on medium high heat and slowly stir both cheeses ½ cup at a time. Add in pepper.
Set 1/3 of the Béchamel Sauce aside to put on buns later.
After cheese is melted, strain macaroni and combine all ingredients into a 9×13 inch pan and cook   uncovered for 15-20 minutes.
When finished cooking spread Mac and Cheese out in a pan and place in refrigerator to cool.
Cut up onions into small pieces and sauté in butter.
In a large bowl combine ground beef, sautéed onions, spices, eggs and cheese with your hands.  Do not over mix the meat or the burger will become overly dense.
Make 5 halves of a burger, making a small indent or nest on each one.  Place them on a cookie sheet.
Take the Mac and Cheese out of the refrigerator and make 5 pancakes about the size of your palm, no thicker than ½ inch.
Place the Mac and Cheese pancakes in the center of the burger nest.
Create an additional burger, similar in size, as a cap.
Gently pinch the edges of the burger together and grill until cooked through.
Presentation:
Toast Burger buns on the grill
Just prior to serving, heat up Béchamel Sauce and add a few left over macaroni into the sauce.
Coat each bun with a generous layer, serve and enjoy.