Since I have family coming in for the holidays, I'm looking for easy recipes to make while they are here. Normally I wouldn't consider homemade pizza to be "easy," but this recipe is pretty easy! The dough should be started either the morning or night before you need it. Since it's thick crust pizza, you make it in a rimmed baking sheet with plenty of olive oil. No need to roll out the pizza dough on a floured surface and the toppings are so incredibly simple: diced tomatoes with some spices and fresh mozzarella. That's it! It's awesome fresh and the leftovers are delicious too, so it will make a great meal for Thanksgiving week.
Ingredients:
6-8 cups+ flour
Water
1 tsp yeast
1 tsp sugar
1 tbsp salt
1 tbsp olive oil
Conebella Farm Fresh mozzarella
Oregano
Garlic
Salt
Pepper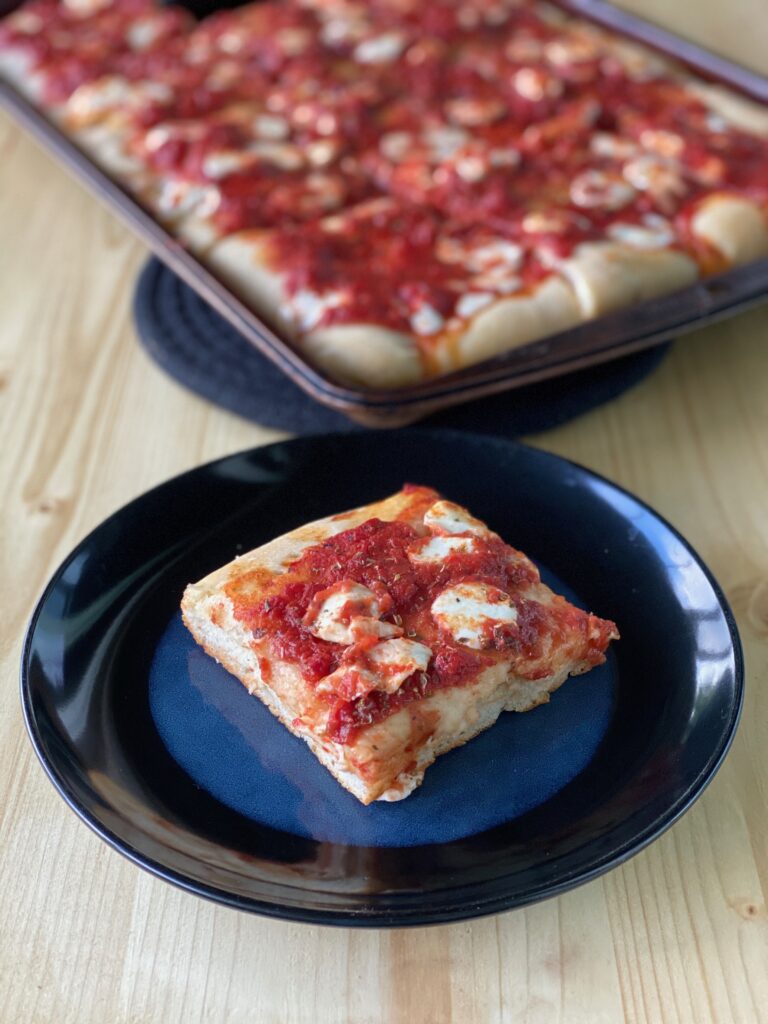 To make the recipe, I usually start the night before. No need to panic if you forget at night, just make it first thing the next morning.
Get out your food scale if you have one and measure 500 grams of flour (3 1/3 cups), 500 grams (2 1/4 cups) of warm water, a teaspoon of yeast and a teaspoon of sugar. Mix everything together in a large mixing bowl. It should be a very wet dough a this point. This kind of mixture is called a poolish.
Cover it with cling wrap and leave it alone for at least 6 hours, preferably 12-16 hours. (I usually check it after lunch on the day I plan to use it for dinner). When you come back to your dough mixture, you should see some nice bubbles in it that burst every few seconds or so.
Add 250 grams (1 1/4 cups) more water, 1 tbsp of salt, a tablespoon of olive oil and enough flour to make the dough form a nice solid dough ball – you'll need another 4-6 cups or more. Mix and knead the mixture about 10 minutes until it is thoroughly incorporated. Let it rise another hour, then punch it down and knead and stretch the dough again.
This is usually enough dough for 3 thick crust pizzas, so prior to baking it you'll need to divide it into 3 dough balls. If my family won't eat it all in one night, I save the rest for later in the fridge.
Preheat the oven to 500 degrees.
Find a large, rimmed baking sheet and cover generously with olive oil. Stretch out the dough on the baking sheet, turning over so that the oil gets on both sides and sprinkle it with salt and garlic powder. Then tear off pieces of Conebella Farm fresh mozzarella (yes, cheese first!) and spread around the dough. Next, get some crushed tomatoes, such as Cento San Marzano tomatoes or Tuttorosso crushed tomatoes with basil. Spread them out on the dough over the cheese. Sprinkle on minced or sliced garlic, oregano, salt and pepper. Bake at 500 degrees about 12-20 minutes, until the cheese is melted and the dough is cooked through. The cooking time will vary depending on how thick your crust and sauce is.
Serve and enjoy!