Bacon-cheddar scones and biscuits have been making the rounds on Pinterest lately. And while Pinterest often captures the passing flavors we're currently obsessing over, I predict that bacon-cheddar scones and biscuits will become a staple of contemporary kitchens.
Because here's the thing. Not only do they taste devastating, they ask for only a very small time commitment. Fifteen to twenty minutes prep. That's mostly spent chopping herbs and cooking bacon, which you could do in advance if it's easier, or you could even use Conebella Farm herb cheddars, like our Garlic & Dill Cheddar or Garlic & Chive Cheddar. Then you just stick them in the oven for 25 minutes. And then you've got buttery, cheddary, salty, flaky scones. And then you don't. Because they're sure to be devoured the minute you set the plate down.
That's what happened at a baby shower this past weekend. A triple batch of scones like these were on the table when we started to dish up our food, but that triple batch of scones was the first brunch item to vanish! I did manage to grab one before their disappearing act, but that one left me wanting more, so I just had to make some today.
If you are planning a brunch soon, for Mom this weekend, for a mother-to-be, or just for your friends so you can gather before summer gets too busy, these savory delights will be a hit!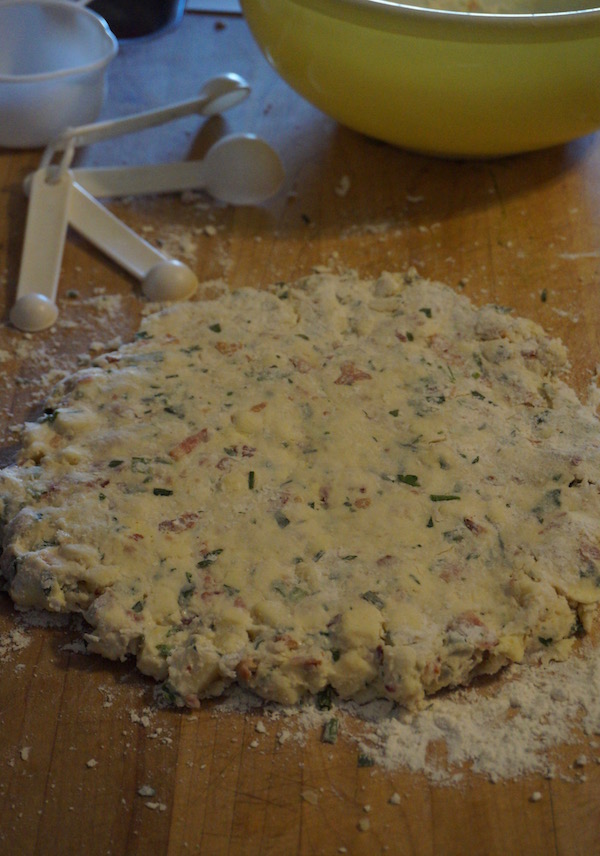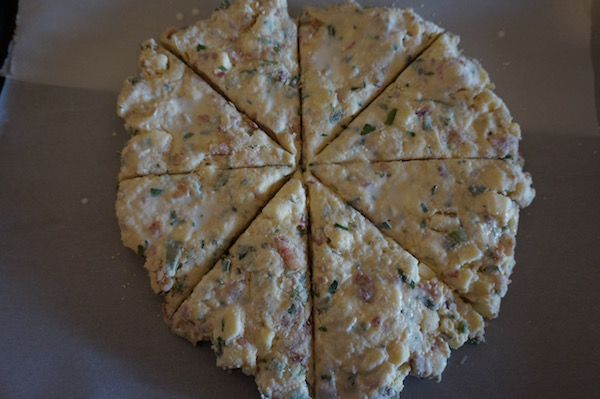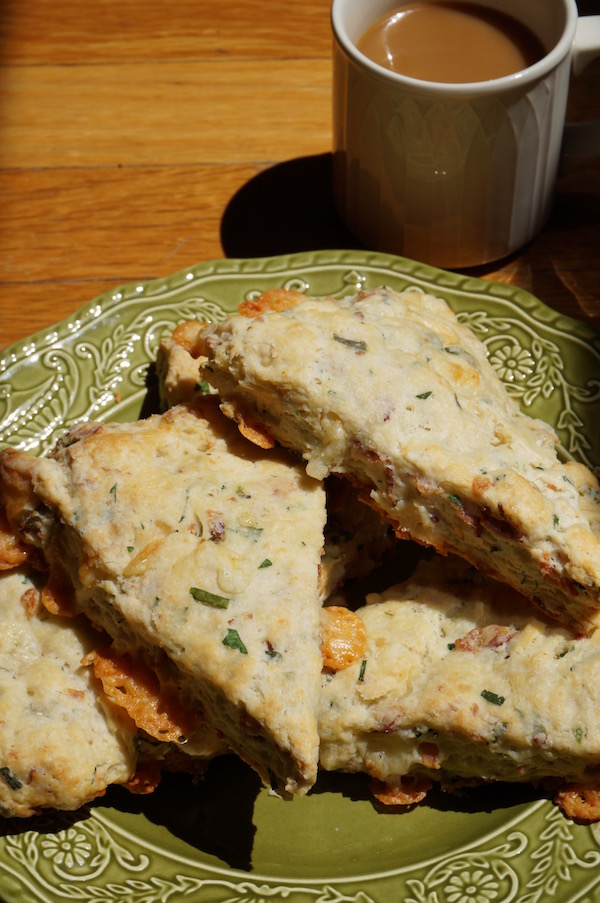 Print
Loaded Scones with Cheddar, Bacon and Herbs
Adapted from King Arthur Flour
Author:
Prep Time:

20 mins

Cook Time:

25 mins

Total Time:

45 mins

Yield:

8

1

x
2 cups

all-purpose flour

1 teaspoon

salt

1 tablespoon

baking powder

2 teaspoons

sugar
a pinch of cayenne pepper

4 tablespoons

cold butter, sliced

1 cup

diced Conebella Farm Cheddar

1/4 cup

snipped fresh chives

1/4 cup

chopped parsley

1/2

pound bacon, cooked and crumbled or chopped

3/4 cup

whipping cream

2 tablespoons

milk (or more as needed)
Instructions
Preheat oven to 425 degrees F and line a cookie sheet with parchment paper.
Mix flour, salt, baking powder, sugar and cayenne.
Use your hands to work in the slices of butter until crumbly.
Add cheddar, chives, parsley and bacon and mix well.
Mix in the cream, using your hands to distribute it throughout the dough. Add milk 1 teaspoon at a time until the dough comes together.
Transfer to a floured surface, press the dough into a circle, and then put it on the cookie sheet. Cut into 8 pie-shaped pieces. Brush with milk.
Bake 20-25 minutes until golden.
Serve with Conebella Farm Bacon Cheddar Spread.