Asparagus-Bacon-Cheddar Mac 'n' Cheese might just be the best mac 'n' cheese for spring. Scratch that. Asparagus-Bacon-Cheddar Mac 'n' Cheese might just be the best mac 'n' cheese ever. In the whole world. It's certainly the most decadent and delicious meal I have had since Christmas. It's almost 10 a.m. as I write this, and I am already wishing it was noon so I could devour the remainder of this cheesy dish that's calling to me from the fridge.
This might all sound like overstatement. But consider this. My husband, who finds that asparagus tortures his palate and makes him gag, loved this mac 'n' cheese, went back for seconds and thirds, and was excited to eat it as leftovers the next night. It's super good, I tell you.
One of the secrets of its richness is the Mornay sauce, which is a béchamel sauce with cheese added. And what's a bechamel sauce, you ask? Oh, just a roux with milk added. Great! Now I get it. Just kidding…. because what in the world is a roux? A roux is a blend of equal parts butter and flour, used to thicken sauces and soups. Fancy names, but very easy processes. And of course, the quality of the cheese that you use will determine the Mornay sauce's flavor.
The fact that asparagus is in season right now also contributes to the dish's flavor. And in the spring, it feels especially good to use in-season ingredients. We have been waiting all winter long for homegrown produce. And now it's here!
This particular season, this spring 2016, has been a wild one. Gusts of 40-60 m.p.h. tipped over the calf shed at Conebella Farm Cheese (no calves were harmed, thankfully!). Temperatures soared to the 80s and then dropped to the twenties. We are waiting to hear what this will mean for the Northeast's crops and praying that we will still see an abundant harvest.
We do know that asparagus has been plucky enough to thrive. So it's high time to enjoy it and make use of it on its own–if, like me, you await the first asparagus of spring.
And if, like my husband, you hope the cook of the household will forget that April means asparagus, you will still want to make use of this delicate messenger of spring–now that you've discovered the most amazing mac 'n' cheese recipe of all time.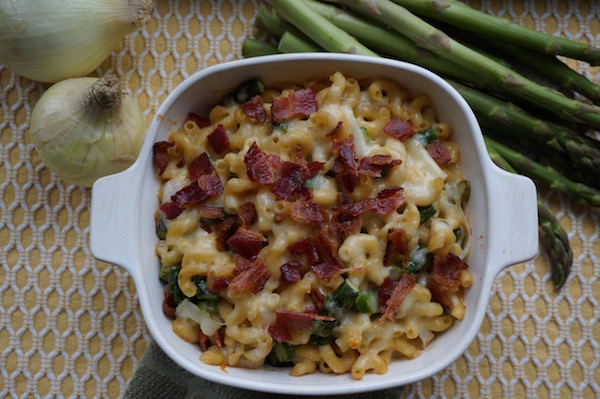 Print
Asparagus-Bacon-Cheddar Mac 'n' Cheese
For a version with more veggies, use cauliflower instead of pasta.
Author:
Prep Time:

45 mins

Cook Time:

25 mins

Total Time:

1 hour 10 mins

Yield:

6

1

x
1

lb. asparagus, sliced into

1

-inch rounds

1

large onion, sliced

1 tablespoon

olive oil

4 tablespoons

unsalted butter, divided

4 tablespoon

all-purpose flour

1 1/2 cups

milk

1 cup

half and half

1 teaspoon

dried oregano
Salt, to taste
ground black pepper, to taste

1 1/2

pounds (3 blocks) Conebella Farm cheddar cheese, shredded

1

lb. elbow pasta, cooked

6

slices cooked bacon, crumbled, for topping
Instructions
Preheat oven to 400 degrees.
BLANCH the asparagus: Bring 2-3 inches of water to boil in a wide saucepan with a lid. Prepare a bowl of ice water. Add washed asparagus to the water, close the lid, and steam the asparagus for 2-3 minutes and then transfer to ice water to stop the cooking. Drain after a few minutes and set aside.
CARAMELIZE the onions: In a sauté pan, sauté the onions in the olive oil, stirring often, until richly browned but not burnt–about 20 minutes.
Meanwhile, make MORNAY sauce: In a large saucepan on low heat, melt butter and add flour. Stir together to form a "roux" (a 1-to-1 combination flour and butter, used as a thickener). Slowly add milk and half and half, being careful that it does not boil. Stir until combined and thickened. Add oregano, salt and pepper and stir. Add cheese by the handful and stir after each handful until well melted.
MIX: In a large bowl, mix pasta and cheese. Fold in the veggies.
BAKE: 25 minutes or until golden brown on top.
Top the finished mac 'n' cheese (or the individual servings) with crumbled bacon.