With some recipes, you take one look at the words on the page and know you're in for a treat. Anything with cheddar and bacon: bound to be delicious. Or tomatoes and basil. Or caramelized onions and ham. And the more you experiment, the more you get to know the combinations that always succeed.
But a cheese sandwich with strawberries and Vidalia onions? With a little mustard thrown in?
The thought of this combination made me nervous, even though I was glad to use summery ingredients. If I was just whipping this up for myself and it failed, I would have been disappointed to waste strawberries, especially since this time of year they melt in your mouth like sugar cubes, and to waste sharp cheddar and all the time and labor that had gone into producing the milk and making and aging the cheese. But I wouldn't have offended anyone else's taste buds, at least!
But I was making this for my husband and my in-laws, too, who all felt nervous to be my "guinea pigs." Would they all be up for this strange combination? What if it completely flopped?
I mixed up the strawberry-lemonade preserves a day ahead and tried them. They tasted sweet, with enough lemon for some extra zip.
Then, worried I was desecrating a good thing, I minced some Vidalia onions and mixed that into the strawberry preserves along with yellow mustard. I also discovered that we had honey mustard, and sampled a mix of strawberry preserves with that, and ick! NEVER try this combination! Go with yellow mustard or Dijon! I tasted a half-spoonful of strawberry-Vidalia-yellow mustard preserves and they were good. Vidalia onions are sweet enough that they just slide the scale a little bit toward savory in these preserves. (If you can't find Vidalia onions, shallots are also a sweeter member of the onion family and will work well.)
Soon, each sandwich had been grilled on the stovetop and we were ready to partake. I hurried to take a bite and see the results. Success! These were so good I got up after our first serving and made more!
My husband requested two modifications: more preserves and more cheese. Fear had prompted me to go easy on the "weird" part of the sandwich, the preserves, but the preserves turned out to be so tasty he wanted their flavor amped up.
So, I'm here to tell you not to be afraid of mixing strawberries, Vidalia onions and yellow mustard on a grilled turkey-and-cheese sandwich. I've tried it and I heartily recommend making it before local strawberry season is over!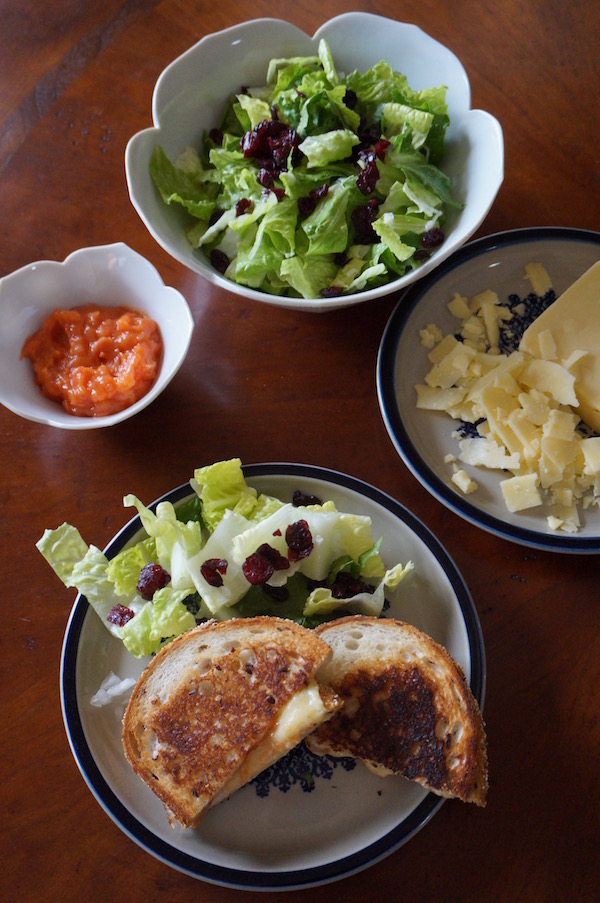 Print
Strawberry-Vidalia Grilled Turkey & Cheese
Author:
Category:

Sandwich
For the Strawberry-Lemonade Preserves:
1 1/4 cups

coarsely quartered fresh strawberries

1/4 cup

sugar

1/8 cup

fresh lemon juice

1.5 tablespoons

cornstarch
For creating strawberry-Vidalia preserves:

2 tablespoons

minced Vidalia onion

1 tablespoon

olive oil

2 teaspoons

yellow mustard
For assembling sandwiches:

12

slices multi-grain bread
roasted lunch meat turkey (or leftover roasted turkey), to taste

8 ounces

Conebella Farm Sharp Cheddar, sliced thin
butter, for spreading
Instructions
Puree strawberries in a blender until smooth. Strain through a wire-mesh strainer into a small saucepan, pressing the pureed strawberries with a spoon until as much juice as possible has been squeezed out. Discard pulp.
Stir in sugar. Whisk together lemon juice and cornstarch. Gradually add the lemon juice mixture into the strawberry mixture. Over medium heat, bring to a boil and cook for at least one minute, stirring constantly. The mixture should become darker pink and begin to stick to the spoon when it is ready. Remove from heat. Chill in an airtight container for 2 hours.
Mix 3 tablespoons of strawberry lemonade preserves with minced Vidalia, olive oil and mustard.
Assemble sandwiches with an ample layer of strawberry-Vidalia on one slice of bread. Then add sliced cheese, turkey and another layer of cheese. Spread butter on one side of sandwich and flip it onto a pan warmed over medium heat. Then butter top of sandwich.