January is a tough time when it comes to eating healthy.  Over multiple holidays, we've slipped into the habit of feasting, and we know this is a habit we're going to have to break sooner or later.  A new year reminds us to set new goals for eating fresh, healthy, local food.  But it's still winter.  We need a little extra deliciousness to get us through it.  So most of us are still craving pumpkin pie and other comfort food.
If you're in that boat (and, as the wind howls outside, I know I sure am), this recipe will be good news for you.  It bursts with all the savory, satisfying flavor of that classic family mac & cheese recipe, and it's packed with healthy spinach, raw milk and delicious creamy raw milk cheese.
When you make this recipe with Conebella Farm Sharp Cheddar, there is an added comfort in this comfort food because you know exactly where and how this cheese was produced.  This January, the Gables are getting ready to register last year's calves, which is an ordinary yet powerful reminder that their heifers started out as calves on this farm, which means the Gables know each cow's history and know that each one has always been raised with care.  They know exactly what each cow has eaten.  In fact, all the forages have been grown on their farm!
So take comfort in this comfort food when you make it with Conebella Farm Sharp Cheddar, and let this delicious twist on classic home cooking ease you into healthy habits for the new year.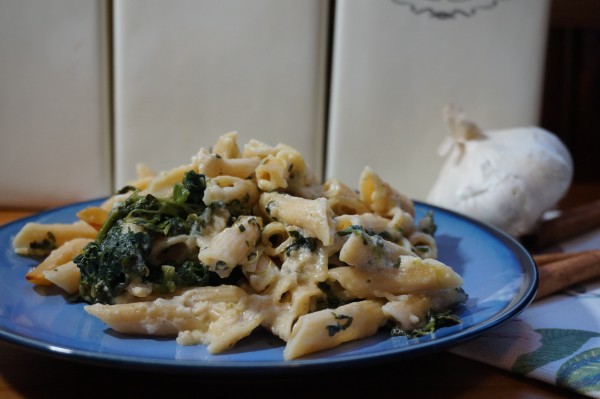 Healthy Mac & Cheese with Conebella Farm Sharp Cheddar
Ingredients
1 10-ounce package frozen spinach, thawed
1 3/4 cups raw milk, divided
3 tablespoons flour
8 ounces Conebella Farm Sharp Cheddar, divided
1 cup 2% cottage cheese
1/4 teaspoon cinnamon
1/4 teaspoon garlic powder
pinch of cayenne pepper
ground pepper, to taste
2 cups penne pasta
Instructions
Preheat oven to 450 degrees F. Boil a large pot of water for the pasta. Grease a large baking dish.
Over low heat, warm 1 1/2 cups milk in a saucepan until it begins to steam. In a small bowl, stir the remaining milk with the flour. Add the milk and flour mixture to the warm milk and stir constantly for several minutes, until the milk just reaches a simmer. Add 2 cups cheddar and stir until melted. Remove from heat and add cottage cheese, cinnamon, garlic powder, cayenne and black pepper.
Meanwhile, when the large pot of water has begun to boil, add the pasta and cook for about 5 minutes. Drain the pasta and mix pasta and cheese sauce together.
Create one layer of the pasta-cheese mixture, add the spinach in a thin layer, and cover with the remaining pasta. Sprinkle any extra cheddar cheese on top.
Bake 25-30 minutes, until golden.