"My England money." That's what my five-year-old niece calls the handful of pence my husband and I brought back for her from a trip across the pond last month. She loves seeing the images of the queen on the coins and sorting the coins by size.
I will think of my niece's charming phrase whenever I make these spinach cheddar potato pies, because this recipe uses "England money" as a frame of reference. The dough for the pies should be about the thickness of a £1 coin. (That is, slightly less than the thickness of two stacked quarters.)
I tasted a pie like this in a London pub called the Dog and Duck. The pub's food was so good we ate there twice, on the cozy second floor, feeling a pleasant April breeze and overlooking crowds that gathered to stand on the sidewalk for an after-work pint. On our second trip, I decided this savory pie looked too good to pass up.  Soon, the pie arrived in the quaint dumbwaiter behind the bar, and I dug in.
The golden pie, about the size of those personal pan pizzas I used to earn by reading books, contained a perfect balance of spinach, cheddar, and potato. Unlike those personal pan pizzas of yore, this pie didn't have a thick layer of cheese on the top– or anywhere, for that matter. The cheese didn't ooze out. It simply blended. I'd like to think that's because the British have a great respect for cheddar and know that its flavors can be compelling even when subtle. And my guess, from the amazing flavor of the pie, is that they prefer hints of high quality cheddar versus an avalanche of cheap, heavily processed cheese.
I will think of England every time I make these pies, and, indeed, any time I taste cheddar.  I can't think of a restaurant or pub I visited that didn't have cheddar on the menu, often in dishes with veggies. Many pubs served cheese plates that gave cheddar a starring role, right next to the Brie, grapes, and chutney.
Of course, I couldn't bring any of this cheese home with me. But recipes? Those I can try here at home. So, I'm working on recreating some of those favorite British flavors, starting with these spinach-cheddar-potato pies. To make it a little easier, I decided to start off with "hand pies" that I could just bake on a cookie sheet.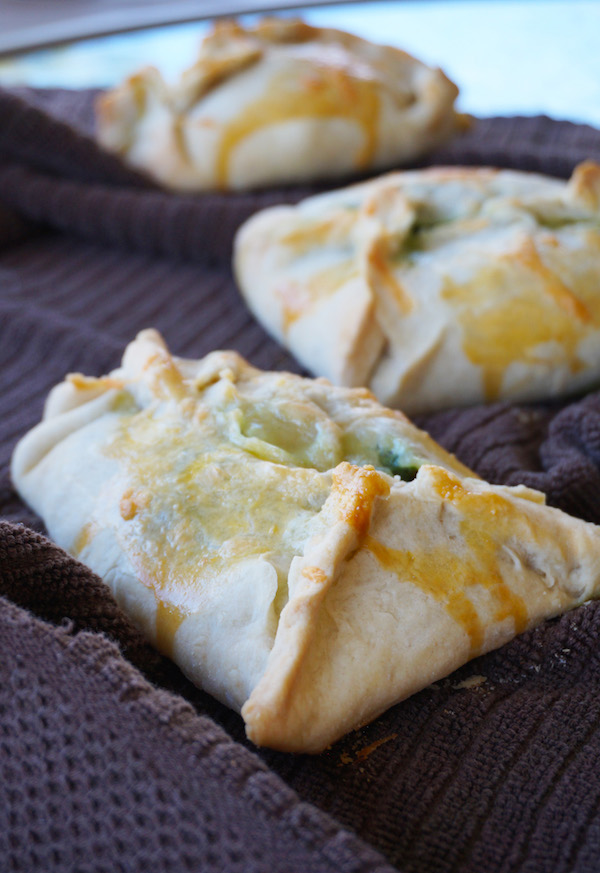 Print
Spinach Cheddar Potato Pies
The BBC Good Food recipe this is based on says the dough should be about the thickness of a £1 coin. (About the thickness of two quarters.)
Author:
Yield:

6

1

x
Category:

Savory pie
1

pie crust (I used the full recipe for this one)

1

small baking potato, peeled and chopped

8 ounces

fresh spinach

2/3 cup

half and half

1 cup

Conebella Farm Cheddar, divided
nutmeg, to taste
ground pepper and coarse salt, to taste

1

beaten egg
Instructions
Preheat oven to 400.
Boil chopped potato ten minutes until tender. Drain.
Boil a saucepan of water. Place fresh spinach in a colander and pour water overtop. Let cool until you can work with it, and then squeeze out all the liquid you can. It works well to let it rest for a minute and then squeeze it again (and again).
In a medium bowl, mix spinach, potatoes, half and half, and 2/3 cup cheese. Add nutmeg, salt and pepper.
Roll pieces of your pie dough into golf-sized balls. Roll out into circles on a floured surface. Place about 1/4 cup of spinach-cheese mixture in the center and fold up. Seal edges by pressing them together with your fingers. Transfer to cookie sheet. Brush crust with egg and top with some of the remaining cheddar and a sprinkling of coarse salt. Repeat with remaining dough and filling.
Bake 30 minutes or until golden brown.