There are two styles of recipes.
There's the kind you follow with absolute precision. You go out and buy the special ingredients they require. Maybe an unfamiliar cut of beef, or some fresh herbs and fancy olives. You measure out the ingredients with care. And the recipe rewards you by turning out well every single time.
Then there's the "flex recipe," the kind that you can turn to when you need a little wiggle room. Maybe you have ingredients that are like what's listed on the recipe, and you know this recipe gives you space to experiment and still turns out well.
This month's recipe is the second kind of recipe. I've been making it since I first got married, almost 10 years ago, and I've modified it over the years. It's become a lot healthier as I've learned more about cooking with local ingredients and reducing processed ones.
Instead of using packaged hash browns, which have extra sugar in the form of dextrose and usually some additives to maintain color and freshness, I start with fresh potatoes. I bake them in the oven or microwave just until they are cooked through. Then, I slice them (which is easier if they're tender but not mushy) and cook them until they're nicely golden brown. Then I layer them on the bottom of a greased pan.
And I've modified it to use Conebella Farm Cheese, which always feels good to do because then I know that the cheese was made with care, and that each of the cows have been raised with pride by farmers who know each cow by name.
If you don't have Conebella's Jalapeno Cheddar, you could use Conebella Farm Cheddar instead, and add some well-drained mild green chiles. You could saute a yellow onion if you don't have green onions on hand. You could skip the ham or add some fried bacon or pancetta instead. It's a forgiving recipe!
I hope that this recipe will become a "flex recipe" for you too, and that you can use it on busy nights when you look in the fridge and have one beautiful block of Conebella Farm Cheese and a few eggs, plus some potatoes on the counter, and you figure that is more than enough to get a creative meal started.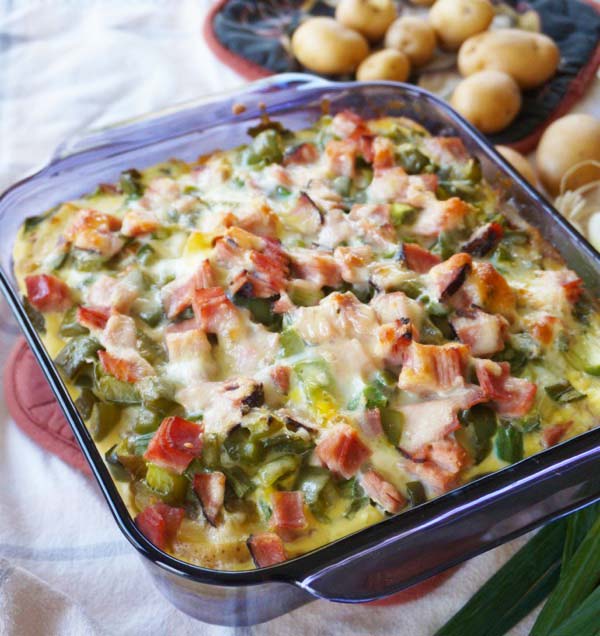 Print
Southwest Egg and Jalapeno Cheddar Casserole
Tip: Bake the potatoes in an oven or microwave until they are cooked through but still retain their shape when sliced.
Prep Time:

40 mins

Cook Time:

40 mins

Total Time:

1 hour 20 mins

Yield:

6

1

x
2

lbs potatoes (any variety, I used a gemst

one

mix), baked but still firm, and sliced.

2 tablespoons

olive oil

1

green pepper, chopped

3/4 cup

Conebella Farm Jalapeño Cheddar, shredded

1 cup

diced cooked ham or Canadian bacon

2

–

3

green onions, chopped

4

eggs, beaten

1 cup

milk
Instructions
Grease a 2-quart baking pan and set aside. Preheat oven to 350F.
Over medium-high heat, fry the sliced potatoes in olive oil until golden brown, working in batches so that each potato gets nicely browned. Transfer fried potatoes to baking pan.
Saute the chopped green pepper. Spread over potatoes. Add chopped green onions, ham, and cheese.
Mix together eggs and milk. Pour overtop.
Bake 40-45 minutes until eggs are firm and a knife inserted in the center comes out clean.