It's been a strange, difficult harvest for local farmers this year. A sudden April freeze punctuated an otherwise mild winter and knocked out many local cherries and apricots. But plums survived. And after pairing this Sugar Plum Chutney with Conebella's Smoked Colby, I sure am glad.
It had been a while since I'd tasted Conebella Farm Smoked Colby, and my first slice was like eating dessert. You just have to let it melt in your mouth. It's so creamy, so delicately flavored.
Though Colby is delicate, this Sugar Plum Chutney is like Colby's extroverted friend. Bold and spicy, it bringing out new angles of Colby's flavor. Meanwhile, the Colby mellows out the chutney, which could otherwise overwhelm.
Because it's true; chutney's been known to overwhelm and provokes strong reactions.
"I had chutney once," a family member told me while my pot of sugar plums simmered away. "It was just too weird for me–that combination of sweet and spicy." I'd had chutney at least once before, too–an apple chutney–and knew that the loud combination of flavors was a perfect harmony for me.
Chutney provoked strong reactions for my husband, too. "What smells like vinegar?" he asked as he came downstairs into the kitchen.
At that point, I just had to laugh. Yup, there goes chutney again, forcing people to take sides.
Colby, on the other hand, seldom provokes such strong reactions. It's known as a softer, moister, milder version of cheddar. Who could take offense at that?
So these two are the perfect pair. The provocative chutney and the mild-mannered Colby. Put out a plate of crackers with chutney and Colby and watch how quickly this pair befriends your guests.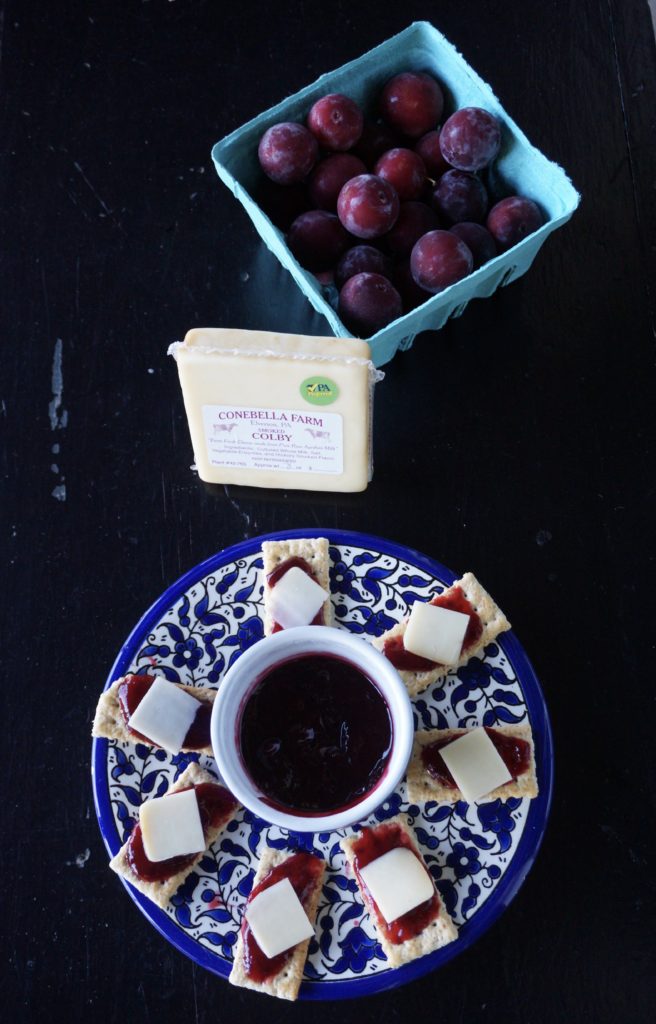 Print
Sugar Plum Chutney
Adapted from Eating Well.
Author:
Cook Time:

45 mins

Total Time:

45 mins

Category:

Sauce
8

–

10

sugar plums, pitted but not peeled

3 tablespoons

vinegar

3 tablespoons

honey

2

pinches cayenne pepper
Instructions
Add all ingredients into a small saucepan and bring to a boil. Reduce heat and simmer until fruit has broken down.
Puree in a blender or food processor.
Return to saucepan and simmer until liquid has evaporated, about 30 minutes. If desired, cool before serving.
Spread onto crackers and top with Conebella Farm Smoked Colby