Many of us learned how to make grilled cheese as soon as we were tall enough to reach the stove top.  Some of us made it while standing on step-stools.  Most of us probably remember scraping off layers of charred bread as we got the hang of cooking.
My own grilled cheese initiation had begun by the time I was ten.  I know this because I remember a squabble with one of my friends from fifth grade.  She insisted that butter goes on both sides of the slice of bread, while I maintained that a proper grilled cheese sandwich can only have butter on one side of each slice.  I would have been horrified if anyone suggested adding tomatoes or mushrooms, much less raspberry jam or pears, or–ick!–spinach.
Maybe because we learn to cook grilled cheese at such a young age, it always feels like an easy and comforting meal.  These days, I don't butter both sides of the bread, but I do experiment with many fruit, veggie, herb and meat additions.  I often look to grilled cheese as a way to use up leftovers, and over the past few weeks, I looked to Conebella's Pinterest board "Grilled Cheese Goodness" to expand the grilled cheese repertoire even further.
Currently, we have 11 grilled cheese recipes on our Pinterest page.  So many choices!  I decided to zero in on four recipes that looked like the absolute yummiest and see which one would be the winner… the all-time BEST grilled cheese recipe.  I sliced up some Conebella Farm Cheddar, sliced all kinds of different bread, and, over the course of a week, created these four delightful meals–even one with spinach!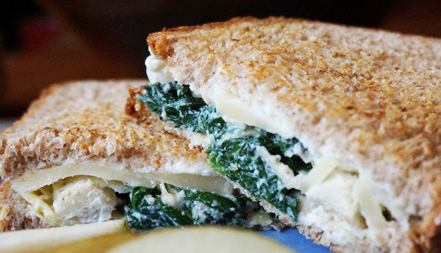 Spinach-Artichoke Grilled Cheese
I used Joy the Baker's recipe as a starting point but made most of this recipe up using what I'd brought home from the market.  This recipe makes two sandwiches.
2-3 cups spinach, sauteed
1 jar of artichoke hearts, drained and sauteed
ricotta cheese
6 medium-sized slices Conebella Farm Cheddar
wheat bread
butter
salt and pepper
Spread ricotta on four slices of wheat bread.
Mix together sauteed artichoke hearts and spinach and spread on two slices of bread and salt and pepper them to taste.
Add a layer of cheddar cheese–three slices per sandwich.
Place a slice of bread on top, butter both sides of your sandwich, and grill on a griddle until nicely browned.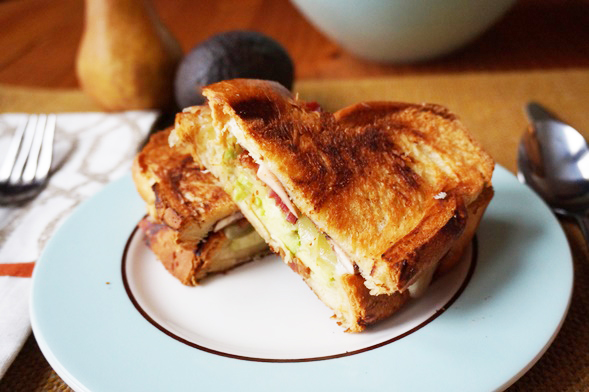 Avocado Bacon Grilled Cheese
Avocado is always welcome on my grilled cheese sandwiches.  Add mushrooms, pears and  turkey bacon and make the sandwich on Challah bread, and I am one happy lady.  Make 2 sandwiches with the recipe below:
Avocado Bacon Grilled Cheese
Ingredients
1 avocado
4 mushrooms, such as baby bello, sliced
4 turkey bacon slices
1 pear, thinly sliced
6 slices Conebella Farm Cheddar Cheese
Challah bread
Butter
Instructions
Layer the ingredients, butter the bread and grill 'em up!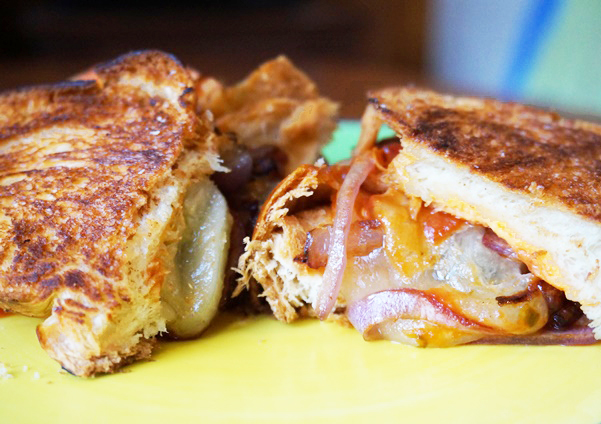 Caramelized Onion BBQ Grilled Cheese
For this one, I followed the Pinterest recipe exactly.  Find it here!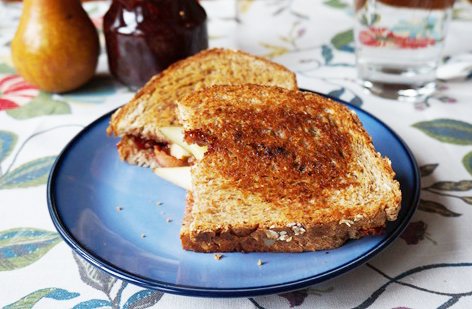 Grilled Cheese with Bacon and Pears

My version of this sandwich, too, stayed close to the Pinterest recipe, except that I used Conebella Farm Cheddar instead of muenster cheese.
The winner?  After some deliberation, because I enjoyed every single one of these, I award the prize to Grilled Cheese with Bacon and Pears.  You really can't beat the mix of sweet and salty in this recipe. I'm considering elevating it to a dessert.
Second prize goes to Avocado Bacon Grilled Cheese because challah bread is incredible, especially with avocado and cheddar between slices!
A very close third goes to Caramelized Onion Grilled Cheese.  This sandwich was messy and glorious and will certainly find its way to our table again.
As for Spinach-Artichoke Grilled Cheese, I'd like to hit refresh and follow Joy the Baker's recipe exactly.  The concoction I created was yummy, but the other grilled cheese combinations outshone this one.  Or, maybe it just needed butter on both sides of each slice.
* * *
Article written by Rebecca Talbot and coordinated by VanDuzer Design & Marketing for Conebella Farm and may also be syndicated on Fig: West Chester and Rachel's Farm Table.
Save