I always forget about biscuits, thinking that if I want to serve a bread side it has to be, well, a loaf of bread, or cornbread, or at least some yeast rolls.
How can I forget about a recipe so quick and easy? Once I make biscuits, I remember how good they are. I eat three and crave a fourth.
That's especially the case when they're cheddar biscuits. And wow is it taking some discipline to sit here and not eat another one of the Apple Cheddar Buttermilk Biscuits that just came fresh from the oven.
I thought the apple cheddar combination would be delicious, but these exceeded my expectations. Once the cheddar gets a little toasty, the biscuits taste a bit like a certain brand of cheddar cracker that I also find addictive. (Part of my husband's job as my spouse is to be in charge of prying the box of cheddar crackers out of my hands.)
All that to say: make these with your dinner tonight. Make them while local apples are in season. Put them on the menu for your Thanksgiving dinner. And make them for many meals between now and then.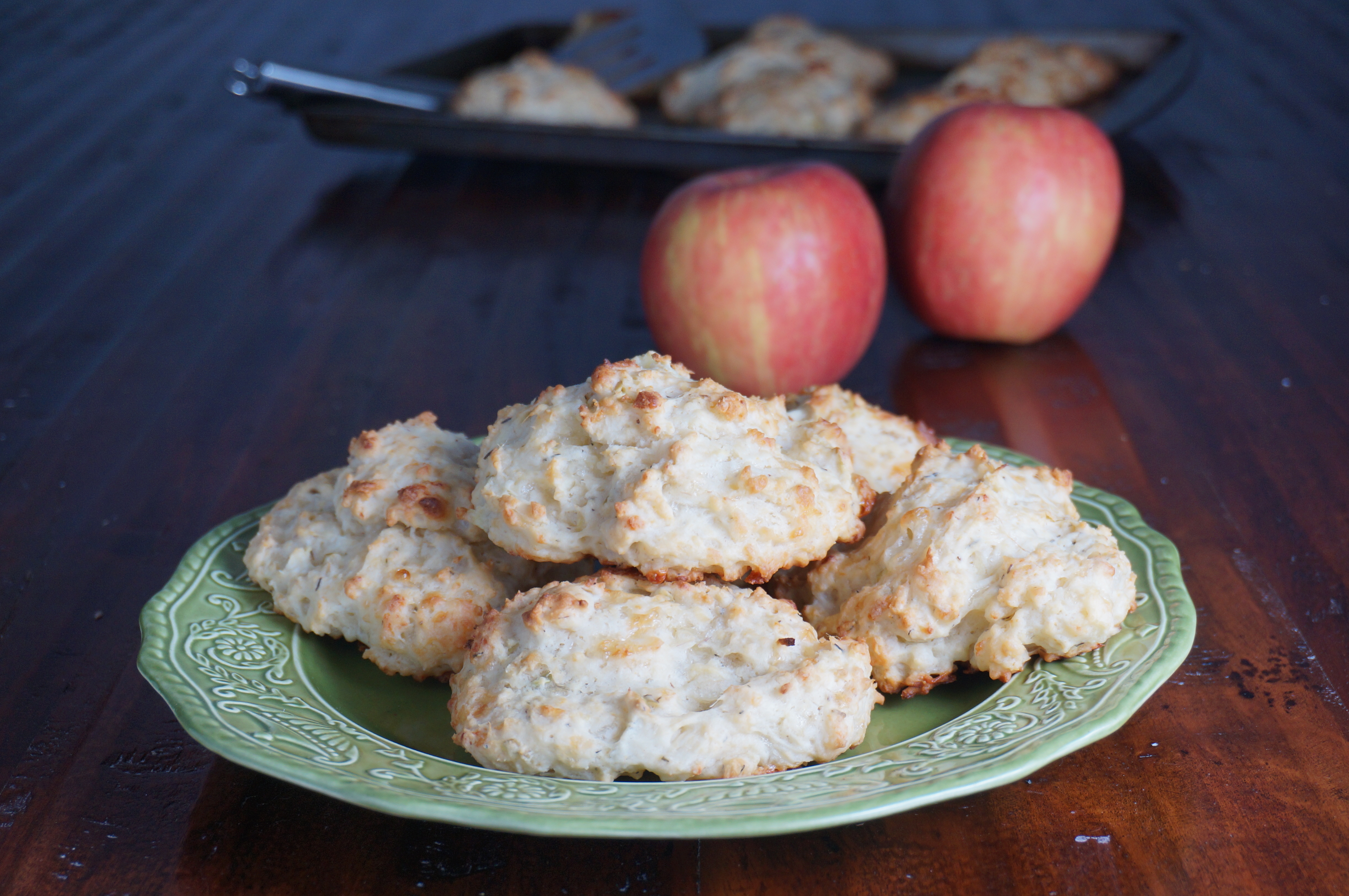 Apple Cheddar Buttermilk Biscuits
Prep time:
Cook time:
Total time:
Ingredients
2¼ cups all-purpose flour
2½ teaspoons baking powder
2 teaspoons sugar
1 teaspoon salt
½ teaspoon baking soda
½ cup cold unsalted butter, cut into chunks
1½ cups shredded Conebella Farm Sharp Cheddar or Italian Cheddar
1 teaspoon dried thyme leaves (or ½ tsp if using Italian Cheddar)
1 cup buttermilk
1 cup shredded or finely chopped Fuji apple
Instructions
Preheat oven to 450 degrees. Mix dry ingredients (flour, baking powder, sugar, salt and baking soda and thyme). Mix in butter until the mixture resembles coarse crumbs. Add cheese, apple and buttermilk. Stir until just moistened.
Grease a baking sheet. Drop biscuits from a spoon onto the baking sheet.
Bake for 15 minutes or until golden brown on top.