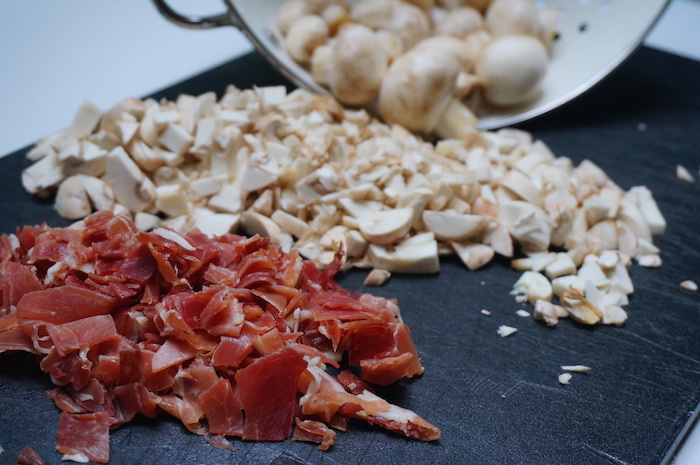 When I was growing up, my mom had a meal she called "Company Chicken."  A simple, flavorful breaded chicken recipe, it was one of those meals that would always turn out right and taste fancy.  Because it was guaranteed to be good, this recipe made the rounds from friend to friend.  Mom learned it from someone she knew and then passed it on to anyone who asked for it.
It's important to have this kind of recipe in the repertoire so that you can relax, knowing the meal will turn out well, and enjoy the time with your guests.  For several years, my own "company chicken" usually involved white wine, kalamata olives and pancetta, but now I've made it so many times I'm on the hunt for something new.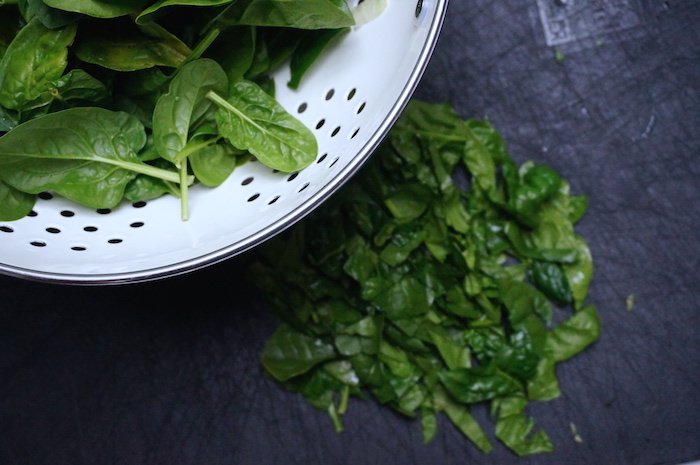 This Spinach and Cheddar Stuffed Chicken is the new candidate.  With only 5 steps, it doesn't require hours of preparation, and the cheddar and pancetta mix gives it full flavor.  Italian bacon is sure to be a hit with your guests!  Spinach, mushrooms and green onions add flavor and nutrition.  Spinach is a great way to get more iron, vitamin A and folate, and mushrooms deliver a good dose of fiber, while green onions offer plenty of vitamins K (good for bones) and A (good for your heart).  Also, when you use Conebella Farm Cheese spreads for this recipe, you are starting with a high-quality preservative-free ingredient made through an artisan process that captures the cheese's full flavor.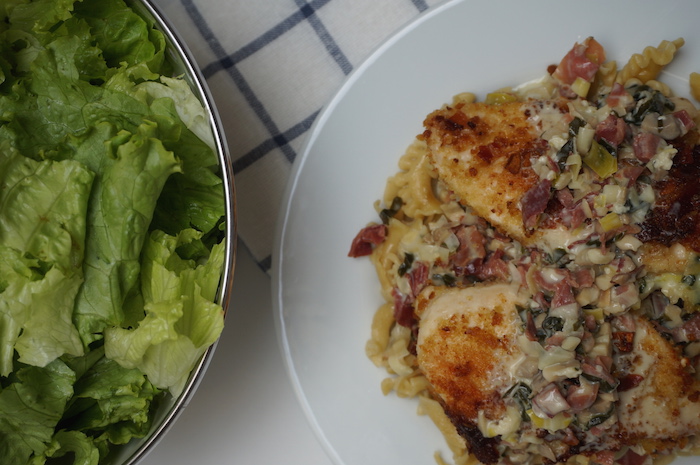 The recipe that inspired this one used cream cheese, which reveals that it's easy to switch to Conebella Farm Cheese spreads whenever a recipe calls for cream cheese, adding a subtle cheddar flavor to your next company meal.  Conebella Farm's spreads also make a delicious substitute for heavy whipping cream!  Just blend milk with the spread and heat the cheese in a saucepan over low heat until the cheese melts.
Next time you're expecting company, spread out the tablecloth, light the candles and serve this rich, memorable company chicken.  And then pass the recipe on!
Spinach and Cheddar Stuffed Chicken
Ingredients
1/4 pound pancetta
8 ounces baby Portabella mushrooms
3-4 cups fresh spinach, chopped
6 ounces Conebella Farm Cheddar Spread, room temperature.
4 green onions
6 boneless skinless chicken breasts with any fatty portions removed
Instructions
Preheat oven to 450 degrees F.
Cook pancetta and mushrooms until pancetta is crisp and mushrooms are tender.
Mix Conebella Farm Cheddar Spread, mushroom mixture, spinach and onions.
Cut a slit in the side of each piece of chicken and fill with cheese mixture. If you have more mixture than will fit, spread some on top of the chicken.
Arrange chicken in a Pyrex pan and roast for 30-40 minutes until chicken is cooked through.