In the first year after I got married, I had to build up a recipe collection. I had cooked now and then during high school, and had somehow managed to feed myself when I moved into my first apartment after college. (Mainly, I existed on omelets.) But daily meal prep for two people? This was brand new.
I was excited to experiment with new recipes. I had one criterion. The recipes had to be spicy. My husband liked spicy foods, and, as a new bride, I aimed to please. Usually I found recipes by Googling "spicy" + whatever was left in the fridge:
cream cheese + spicy
carrots + spicy
eggs + spicy
I found some of my favorite recipes that way, including a recipe for Cajun chicken pasta, which turned into Cajun Cheddar Chicken when I discovered Conebella Farm Cheese.
My quest also led me to discover a healthier version of a classic Mexican recipe–chimichangas. Traditionally, chimichangas are deep fried. In the version I discovered way back in 2007, they are brushed with butter and then baked. When I made them during a family vacation a few years ago, my brother-in-law compared them to a hot pocket. He helped himself to seconds.
I recently reworked my chimichanga recipe to capitalize on some Conebella Farm Jalapeño Cheddar Spread and a block of Smoked Colby that I'd picked up at Conebella's farm store in Elverson. It was creamier than my original chimi recipe, and just as delightfully spicy. My husband thoroughly approved.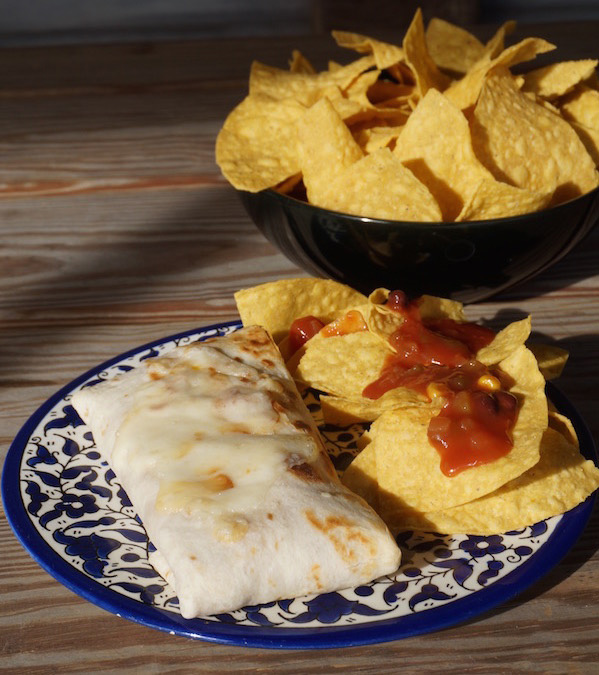 Print
Chimichangas with Jalapeño Cheddar and Smoked Colby
Author:
Yield:

4

1

x
Category:

Main Dish
2

boneless skinless chicken breasts

8 ounces

Conebella Farm Jalapeño Cheddar Spread

2 tablespoons

milk

⅓ cup

water

8 ounces

Conebella Farm Smoked Colby, shredded

6

8-inch flour tortillas

2

–

3

tablespoons butter, melted
Salsa (a few tablespoons per chimi)
Sour cream, diced avocado, or green onions for topping.
Instructions
Boil chicken until cooked through (about 20 minutes). Shred.
Preheat oven to 400.
Add Conebella Farm Jalapeño Cheddar Spread and milk to saucepan over medium low heat. Cook and stir until cheese melts.
Stir in the cooked shredded chicken.
Warm a tortilla in a large pan until soft. Remove from pan. Add a thin layer of Colby. Add about ¼ cup of the chicken mixture on top of the Colby. Top with a few more tablespoons of shredded Colby and a few tablespoons of salsa.
Roll, tuck ends underneath, and place on a greased baking sheet. Brush chimis with melted butter. Sprinkle generously with Colby.
Repeat with remaining tortillas.
Bake 10-15 minutes, until golden brown.
Add toppings as desired.