I'll make a really easy blog recipe this month, I told myself. A quick appetizer you can throw together in about five minutes.
So that's what we have this month. These cheddar, apple and pepper jelly toasts really are so easy you might as well add them to your list of appetizers to have at every party!
It's just some quick slicing: slice a baguette, your favorite kind of apple and some Conebella Farm Cheddar, Sharp Cheddar or Smoked Colby. Then spread pepper jelly on the baguette slices, layer everything together and pop it in the toaster oven till the cheese melts.
Done! No need to send your spouse or child or friend to answer the door while you're still in the kitchen glaring at tangled puff pastry sheets or sneaking out the back door to buy a suitable substitute for the appetizer that stuck to the bottom of the pan. This appetizer offers complex flavors with simple prep.
Having said that…
There is an alternate way of making these that amps up their deliciousness and takes a mere, hmmm…. 18 hours?
The alternate way is to make your own baguettes. It's longer, it's more of a hassle, but it'll also make you feel like you've never really tasted a real baguette before.
And, chances are, it will be much healthier. Have you looked at the ingredients list of store bought bread recently? Most grocery store bread, even "from-scratch" varieties sold in the bakery section, will have a long list of ingredients, including preservatives like calcium propionate, and "dough conditioners" that often have an ingredient made with human hair! It can be so hard to find well made bread that I have simply started making my own. Making things slowly, whether it is bread or artisan cheese, is worth the effort because of the dividends they pay in terms of health and taste.
And for all this reward, making baguettes is not actually that difficult. Time consuming, yes. But difficult? No. At least, not difficult the way, say, sculpting fruit to look like woodland animals is difficult. It's just a long series of simple steps.
Ready to create something awesome in the next 18 hours? Here's the recipe.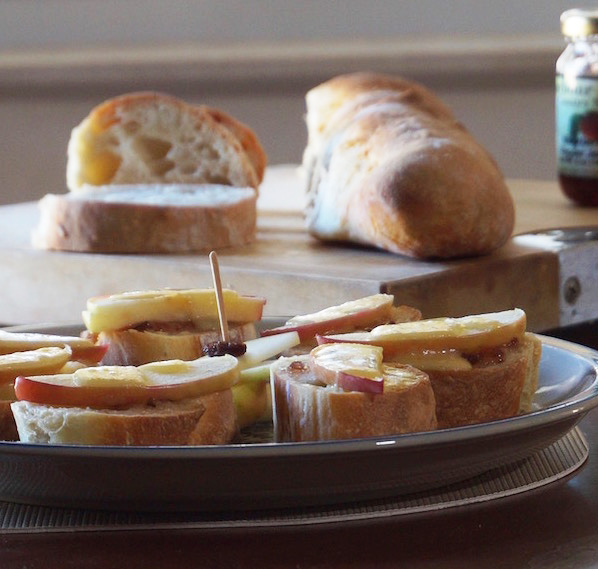 Print
Homemade Baguettes
Adapted from Water Salt Flour Yeast and King Arthur Flour. Serves 4.
Poolish (your dough starter):
3 3/4 cups

plus 2 tablespoons all purpose flour

2 1/4 cups

water

1/8 teaspoon

yeast
Final dough:
3 3/4 cups

plus 2 tablespoons all purpose flour

1 tablespoon

salt

3/4 teaspoon

yeast
Instructions
Create the poolish about 18 hours before you want to bake the bread by mixing all the ingredients together in a large bowl, covering it with a tea towel, and allowing it to sit at room temperature for 12-14 hours.
When the poolish is nice and bubbly (with lots of small bubbles covering the surface), begin the final dough by pouring the 1 1/8 cups water around the edge of the poolish. This will loosen it. In a separate bowl, mix the remaining "final dough" ingredients together. Dump the poolish and water into this bowl, and use your hands to mix the poolish and final dough until they are completely combined.
Set the dough aside, covering the bowl with a tea towel, to rise for 2-3 hours, working it at intervals:
After the first 30 minutes of rising, pull on a section of dough until it almost feels like it is going to rip. Repeat with additional sections until you've worked all the sections of dough. (This builds up the gluten.) Let the dough rest for another 30 minutes, and then repeat the pulling process. Do this one more time in the course of the dough's 2-3 hour rising.
After dough has risen, preheat oven to 425. Divide dough into four equal sections and shape each section into a rectangle on a floured surface. Let the rectangles rest 15 minutes so they're easier to work with. Fold the dough over (like you're making a quesadilla). Seal the edge and fold it over again.
With floured hands on a floured surface, roll the dough until it is long and just a little less than the width of a finished baguette–it will continue to rise before and during baking.
Transfer baguettes to a lightly floured tea towel and push the towel around the edges of the baguettes so the baguettes nest in them. Cover them and let them rise about 15 minutes.
Remove the baguette dough from the towel and place baguettes on a parchment-lined baking sheet, making sure the floured side of the baguettes face down. Cut them with three slashes apiece.
Using clean, wet hands, sprinkle water on the baguettes. The steam will make the loaves develop a nice crust. Add a loaf pan filled with water to the bottom rack of your stove to create more steam.
Bake 30-40 minutes or until baguettes are a rich brown.
Print
Cheddar, Apple & Pepper Jelly Toasts
1

baguette

1

apple

1

block Conebella Farm Cheddar, Sharp Cheddar or Smoked Colby
Pepper jelly, to taste
Instructions
Slice baguette, apple and cheese.
Spread pepper jelly on baguette slices.
Top with a slice of apple, followed by a slice of cheese on top.
Heat in a toaster oven until cheese melts.
Save
Save
Save
Save