Let me introduce you to the most flavorful mashed potatoes you will ever taste.  These smooth and fluffy golden mashed potatoes begin with Yukon gold potatoes, which have a naturally buttery "French fry" taste.  The finishing touch, Conebella Farm Bacon Cheddar Chive spread, takes the flavor to the next level.  Even eaten plain on a cracker or pretzel, Bacon Cheddar Chive spread ushers in amazing notes of smoky bacon, creamy cheddar and sweet onion.  Whipped into your Easter mashed potatoes, the dance of flavors really starts whirling.
Since Easter is the last holiday before the warm weather begins in earnest, it's a fitting time to bring mashed potatoes to the table.  Soon, summer picnics will begin, and we'll be stirring potato salads instead of whipping up warm bowls of rich mashed potatoes.
And since Easter can involve time-consuming preparations, this easy recipe will be welcome.  The active time is about 5 to 10 minutes.
I was happy to find and use Land O'Lakes butter for this recipe, not just because Conebella Farm is a member of this dairy cooperative, but also because Land O'Lakes just presented the Gables with a five-year Milk Quality Award.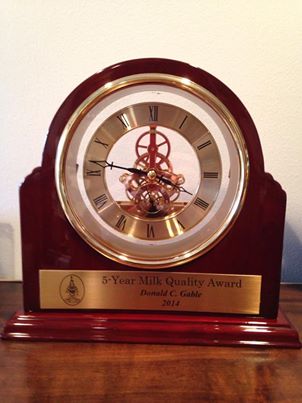 Some of Conebella Farm's raw milk is shipped to Land O'Lakes for use in their dairy products, and Land O'Lakes samples milk every time it receives it from a farm.  They test for three markers that demonstrate the cows' health.  Milk samples must have no antibiotics at all, a bacteria count well below levels that have been deemed safe and a low white blood cell count to ensure that the cows are not fighting infections.  To secure a milk quality award, a farm must meet these requirements for a full year.
So, I added Land O'Lakes butter to this recipe, with full peace of mind that it came from a farm that, like Conebella, has met very high standards.  Secretly, I was hoping that it came from Conebella Farm itself!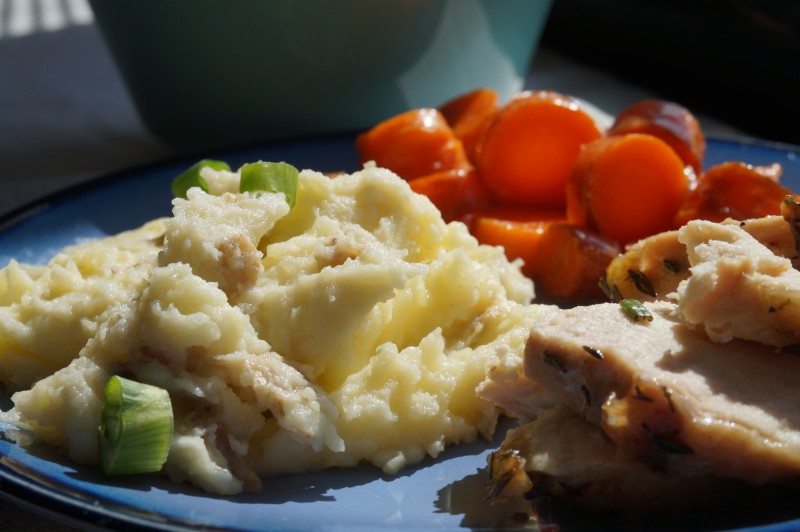 Whipped Bacon Cheddar Chive Mashed Potatoes
Ingredients
2 pounds Yukon gold potatoes, scrubbed
1/2 cup heavy whipping cream
1 stick butter, room temperature
2 tablespoons yogurt
1/2 package (4 ounces) Conebella Farm Bacon Cheddar Chive Cheese Spread, room temperature
Salt and pepper, to taste
Instructions
Cut potatoes into eighths (no need to peel) and cover them with cold water in a large pot. Bring to a boil, and boil about 15 minutes, then test them with a fork to see if they are tender.
Once they are quite soft, drain the pot and transfer the potatoes to a mixing bowl. Mash the potatoes with a wooden spoon until there are no lumps.
In a medium saucepan, heat butter and cream until just boiling, and then stir them to combine. Add to potatoes along with yogurt and cheese spread.
Using an electric mixer, whip the potato mixture for about a minute, until quite fluffy.
Season with salt and pepper.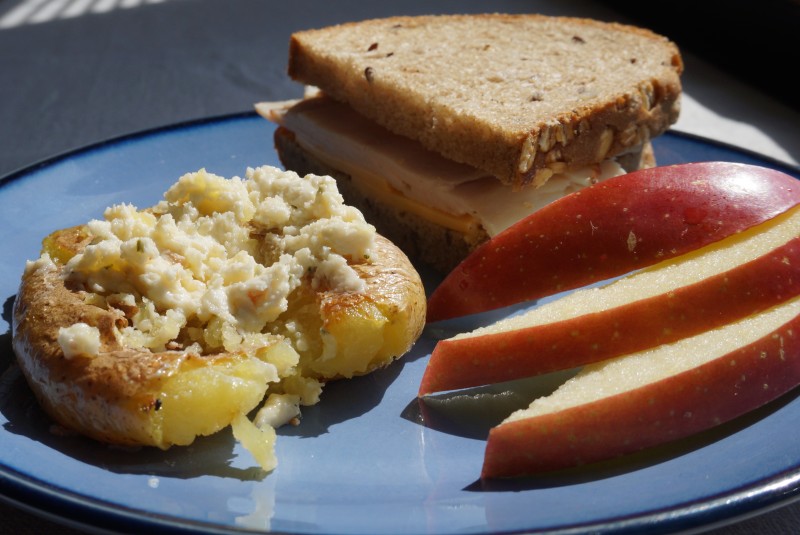 If, after Easter, you've devoured these mashed potatoes (and I promise you will!) and you're looking for another easy, buttery, cheesy recipe, try this:
Prick Yukon gold potatoes with a fork and bake at 375 F until soft.
Smash the potatoes flat with a spatula and fry in a lightly-oiled pan until golden brown.
Top with a spoonful of Bacon Cheddar Chive spread.