When I browse a menu at a restaurant, it is often the sandwich section that catches my eye.  Cheddar cheese?  Sourdough bread?  Bacon?  Fresh tomatoes?  Yes, please!  I can't think of a time when a sandwich I've ordered has disappointed me, and yet when I'm planning meals at home, I hardly ever remember that sandwiches are a perfectly valid option for lunch or an easy weeknight dinner.
Sandwiches are not only delicious, but they can also be healthy, especially with a side of carrot sticks or apples in lieu of the potato chips or fries that usually accompany any sandwich I would order at a restaurant.  When you make a sandwich, you're stacking up nutrients along with ingredients and flavors, so pack each bite with nourishing flavor.
Start with good bread. I have a thing for sourdough bread and have recently learned that the very thing that makes me crave it… that zippy tang…. is exactly what makes it healthy.  How often does that happen??
Next, make sure you've selected a high-quality cheese.  Conebella's creamy, buttery cheese is high in probiotics and essential amino acids, minerals, enzymes and vitamins since it is made from raw milk.  Conebella offers 14 different varieties of cheddar and colby, so you can find a cheese that will complement your sandwich perfectly.
If you want to add even more protein, it doesn't have to be the sliced meat you get at the deli counter.  Many of my favorite sandwiches use a fried egg instead, and eggs make it a good brunch sandwich (and you can pick up free range eggs at Conebella along with your cheese!).  If you have roasted a chicken or cooked pot roast recently, slice up the leftovers and add them!  If you do buy deli-counter meat, avoid sodium nitrate and sodium nitrite, which have been linked to several health problems.
After that, layer up some fruits and veggies.  Adding lettuce or spinach and tomatoes is almost a reflex, since those are such classic ingredients.  When you add spinach or a dark, leafy lettuce, you are boosting the fiber, folic acid and vitamin content of each bite.  When you add tomatoes, you've just graced your sandwich with antioxidants and potassium.  Hurrah!  Now, what other veggies and fruits are in the fridge?  Since the combinations are endless, sandwiches are a great way to integrate whatever you have around and want to use up.  If I find pears, apples, avocado, sprouts, or cucumbers in my kitchen, I have just found my favorite options for flavorful sandwiches.  You can even use vegetables and herbs in the spreads to sneak in some wholesome ingredients while you're perking up the flavor.  Pepper jelly, red onion marmalade, chipotle mayonnaise and herb butters are just a few ways to find a balance between health and taste.
This week, I rekindled my love of making sandwiches and officially declared it Sandwich Week in our home.  These four varieties were the happy result.  I toasted almost all of them because, well…we've just been through a polar vortex, and I wanted food that was warm and comforting.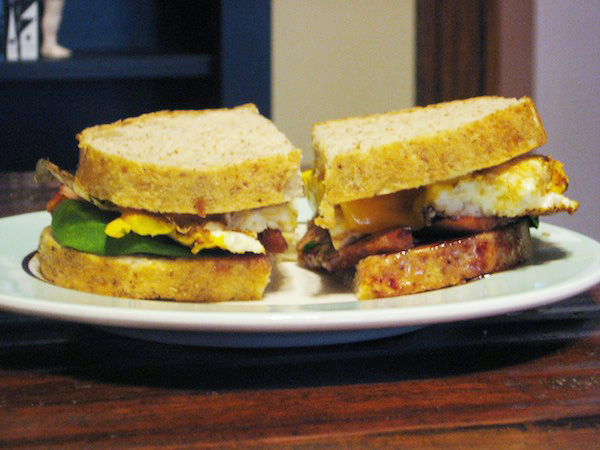 #1: Fried egg & bacon with cheddar and raspberry vinaigrette
Spread on whole grain sourdough bread or your favorite wheat bread:
Mayonnaise, sprinkled with ground pepper
Raspberry vinaigrette, simmered until reduced by half—this makes it more of a sauce than a dressing.
Layer:
2 fried eggs
A few slices of turkey bacon
Several leaves of spinach
Cheddar cheese
Toast in a toaster oven.
#2: Turkey, cheddar, apple
Spread mayonnaise on one slice of San Francisco sourdough bread (or another favorite bread)
Layer:
Red leaf lettuce
Turkey
Apples, thinly sliced
Cheddar
Toast until the cheddar melts.  Serve open-face, or add another slice of bread on top.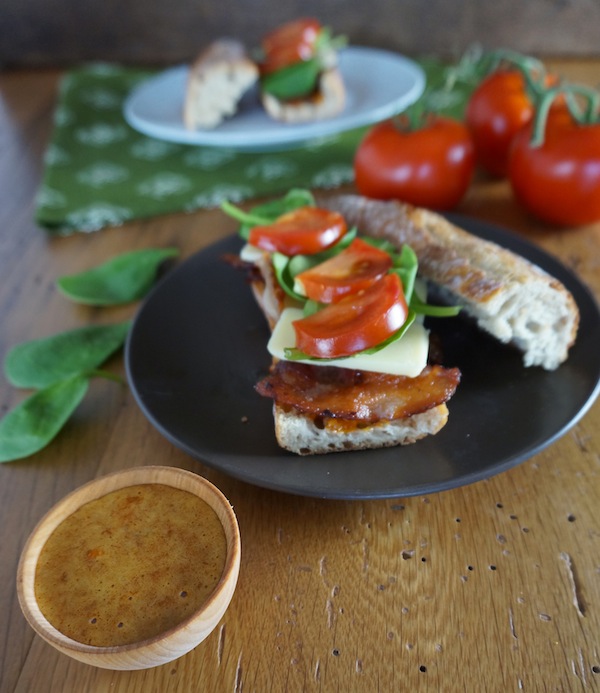 #3: Chipotle and Cheddar BLT
Spread Chipotle Mayonnaise on soft wheat bread.  (Use sparingly—it is very spicy!)
Layer:
Spinach
Turkey bacon
Plum tomato
Cheddar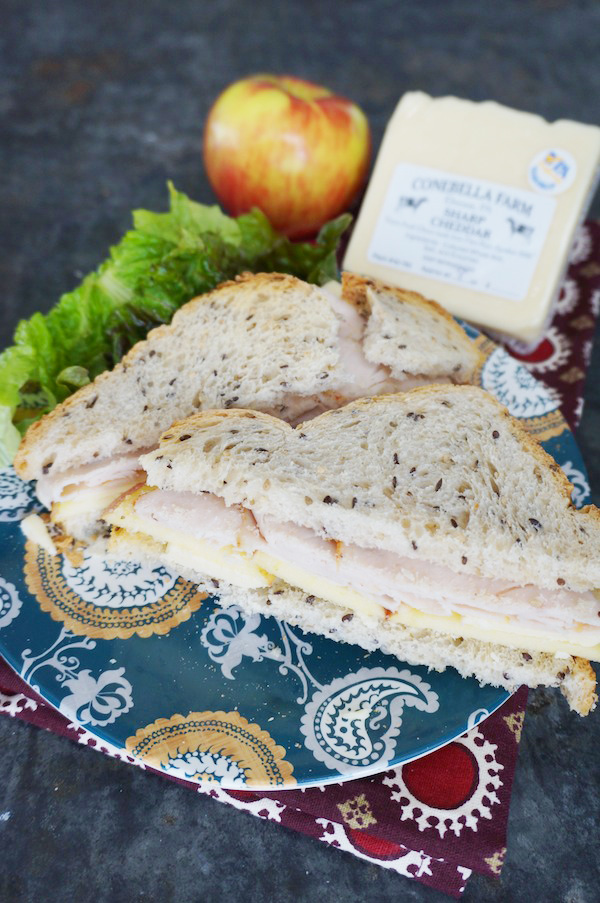 #4: Turkey and Smoked Cheddar with Pear and Hot Pepper
Spread hot pepper jelly or hot pepper marmalade on crusty rustic bread.   (If you're out of hot pepper jelly like I was, it's not too hard to make it yourself.)
Layer:
Turkey
Pears (I used Bosc)
Smoked cheddar
Toast in a toaster oven.