Elverson, PA — Conebella Farm's cheese won three awards at the 2020 Pennsylvania Farm Show in Harrisburg, Pennsylvania this month.
In their first-ever competition at the PA Farm Show Cheese Competition, Conebella Farm's Sharp Cheddar won first prize in the Cheddar, Colby and Monterey Jack category and third in Best in Show. Their Cheese Curds won third in the Cheddar, Colby and Monterey Jack category.
Cheesemakers Israel Kinsinger, from Oak Shade Cheese makes their Sharp Cheddar and John Zimmerman, from Kirchenberg Farm makes their Cheese Curds using the farm's Ayrshire cows' milk.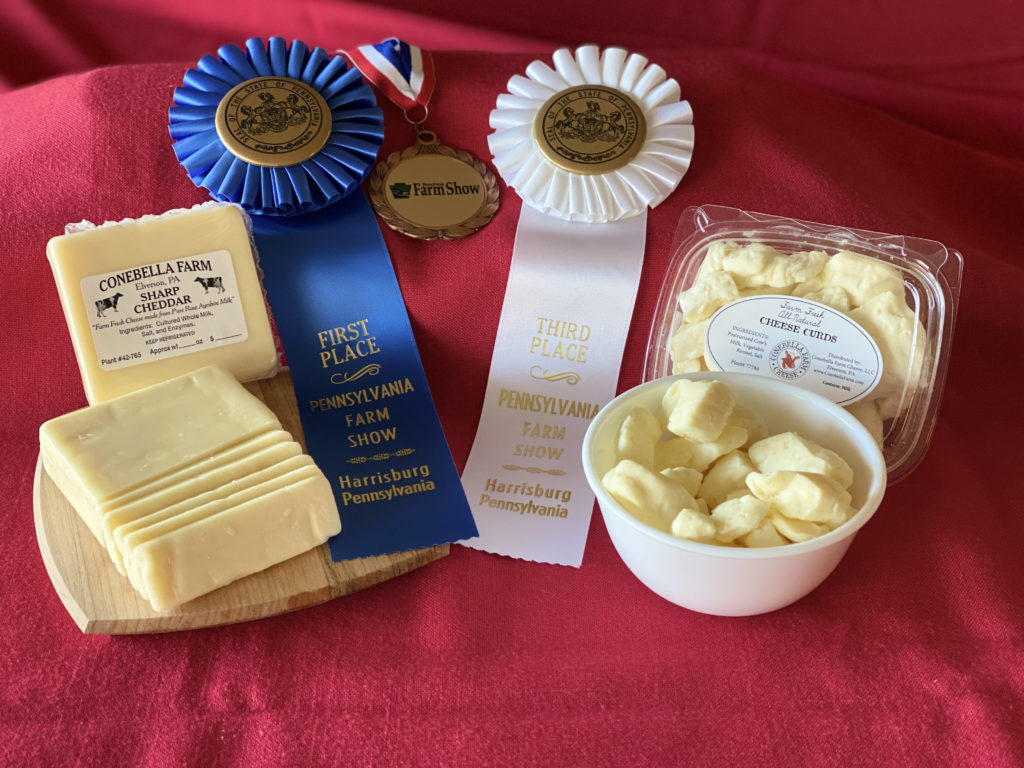 Conebella Farm, an award-winning 100% Ayrshire dairy farm, is located in beautiful Chester County, Pennsylvania. Since 1923, five generations of Gables have called the farm home, including the current owners, Don and Pam Gable and their three sons, Josh, Tyler and Kevin, along with Kevin's wife, Emily. The 198-acre farm grows all of the forages for the 105 milking cows and 100 head of young stock.
Conebella Farm Cheese is made from all-natural ingredients with the milk from their own cows, which is both antibiotic-free and hormone free. Their experienced cheesemakers create a variety of Cheddar and Colby based cheeses, fresh mozzarella, cheese curds, yogurt smoothies, cultured butter and Greek yogurt. Taste the difference in this creamy, buttery cheese made from pure Ayrshire cows' milk.