On particularly busy days, a melody from the Sound of Music floats through my mind. But instead of "how do you solve a problem like Maria," what I'm singing to myself is, "how do you solve a problem like our dinner?"
Sometimes cooking dinner is the last task of a day full of many other tasks. And, as much as I love to cook, that can take some of the joy out of it. It feels less like an art form and more like a math problem–what do the ingredients in the fridge add up to?
On days like that, it's funny to picture how I used to beg my mother let me cook dinner. It was one of those rites of passage, like passing my driver's test or becoming a summer camp counselor.
When I did start cooking, I'm pretty sure my mother's easy Chicken Divan recipe was one of the first dishes I made. It was both easy and rewarding. All you had to do was throw a few ingredients together and pow! You had powerful flavor combinations everyone loved. Broccoli and cheddar were a winning combo in our home.
Recently, I made a "dressed up" version of that classic recipe. It's still very easy. But lately I've come to love roasted broccoli, which has a complex sweetness so unlike the bland sponginess of the boiled broccoli I used to make. If you roast the broccoli the day before, this recipe comes together in about half an hour.
The recipe also uses Conebella Farm Cheddar Spread instead of cheddar condensed soup. Compare the ingredients lists of the two, and you'll see why the Ayrshire cheese product is healthier and more flavorful. In the condensed soup I looked at, cheese was the third ingredient, after water and modified food starch! For that reason alone–not to mention the long list of preservatives and flavor enhancers in commercial soups–Conebella Farm Cheddar Spread is the way to go.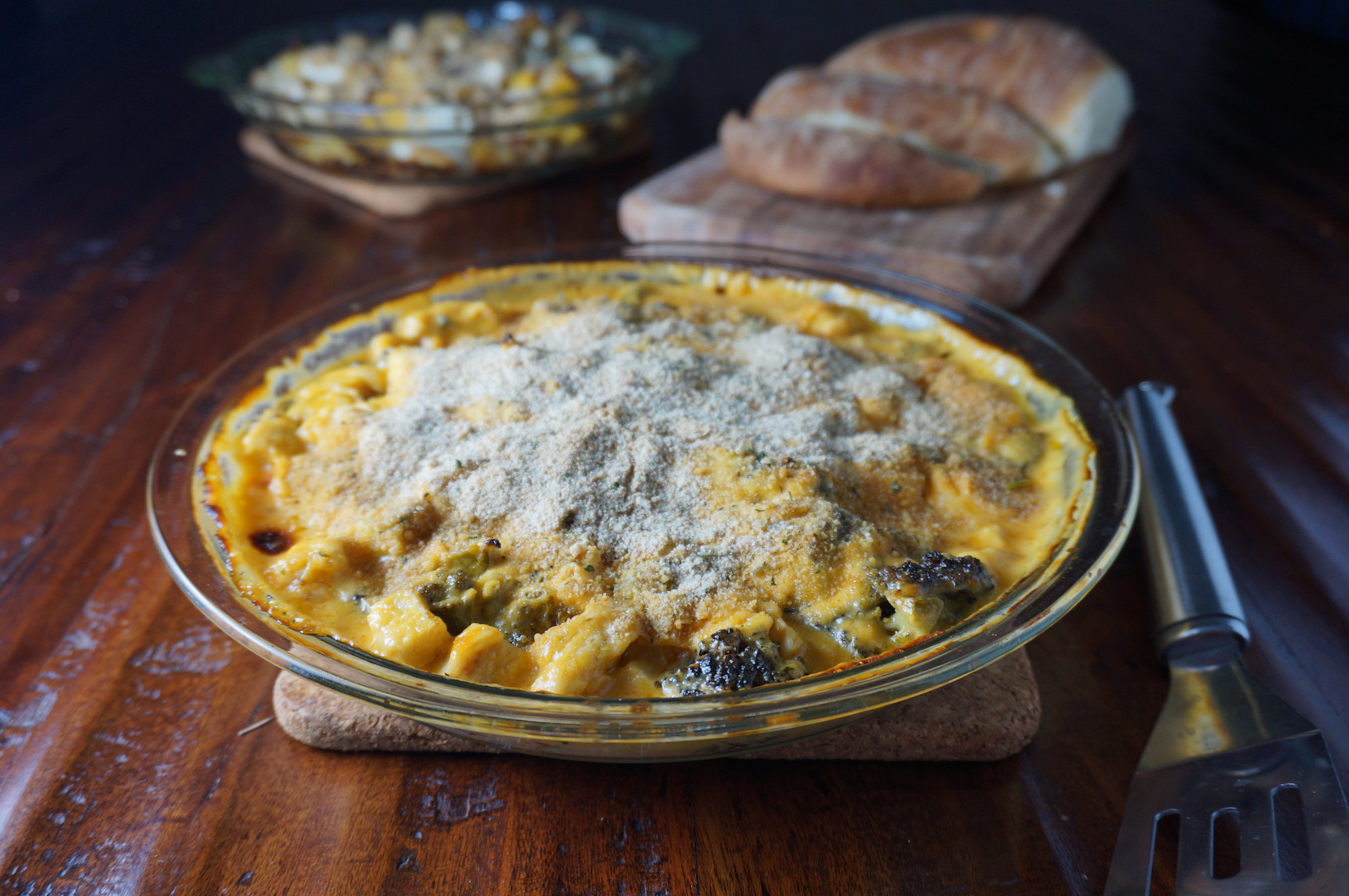 Print
Chicken Divan with Conebella Farm Cheddar Spread
Chicken Divan with Conebella Farm Cheddar Spread Recipe Type : Main Dish Author: Conebella Farm Prep time: 10 mins Cook time: 10 mins Total time: 20 mins Roast the broccoli in olive oil in a baking pan for about 1 hour at 400F. Check on it and turn every 15-20 minutes.
Prep Time:

10 mins

Cook Time:

30 mins

Total Time:

40 mins
4 cups

chopped roasted broccoli (stems, leaves and florets)

1

lb. chicken breast, cooked and cubed

1

8-ounce container Conebella Farm Cheddar Spread

1/4 cup

milk

1/2 cup

shredded Conebella Farm Cheddar

2 tablespoons

bread crumbs

1 tablespoon

butter
Instructions
Preheat oven to 450F.
Add chopped broccoli and cubed chicken to bottom of a deep pie plate.
In a saucepan, heat Conebella Farm Cheddar Spread and milk on low heat, stirring frequently, until cheese melts and is blended with the milk. Make sure the mixture does not boil.
Pour over broccoli and chicken and mix well.
Sprinkle with cheddar cheese.
In a skillet over low heat, melt the butter and mix the bread crumbs, heating until toasted. Sprinkle over the broccoli, chicken and cheese.
Bake for 20 minutes until top is golden brown and cheese is bubbly.
SaveSave