Broccoli cheddar soup is the taste of an efficient workday. It's the taste of being in a place without obligations, surrounded by the hum of conversations that have nothing to do with me.
That's because broccoli cheddar soup is the lunch I usually order at Panera Bread when I clear out of the house so I can get a lot of work done. Sometimes, to make things happen and meet your deadlines, you have to be in a place where there are no dishes or laundry or doorbells, where you can walk up to the counter and have somebody else dish you up a bowl of soup.
But these are fairly rare occasions, and in the fall and winter, I want soup more often than I need a trip to Panera. So I recently attempted to make my own broccoli cheddar soup.
This recipe makes a mild, smooth and creamy soup. I was worried that the broccoli would be a little too pungent, but the soup has all the right hints of the veggie without being overpowering. And another plus–since the broccoli gets steamed in a cream sauce, my house didn't smell like broccoli. (Unlike what happened a few days ago when I steamed the stuff and made our apartment scarcely habitable for a few hours!)
With easy prep and a delicious result, this is sure to become a favorite recipe to take the chill off an autumn or winter day. (Just be sure to remove the bay leaves before transferring the soup to the blender. For a very scary moment I thought I'd pulverized the bay leaves! But then I realized that they had stuck to the side of my soup pot and never made it into the blender after all. Here's to paying more attention to them next time!)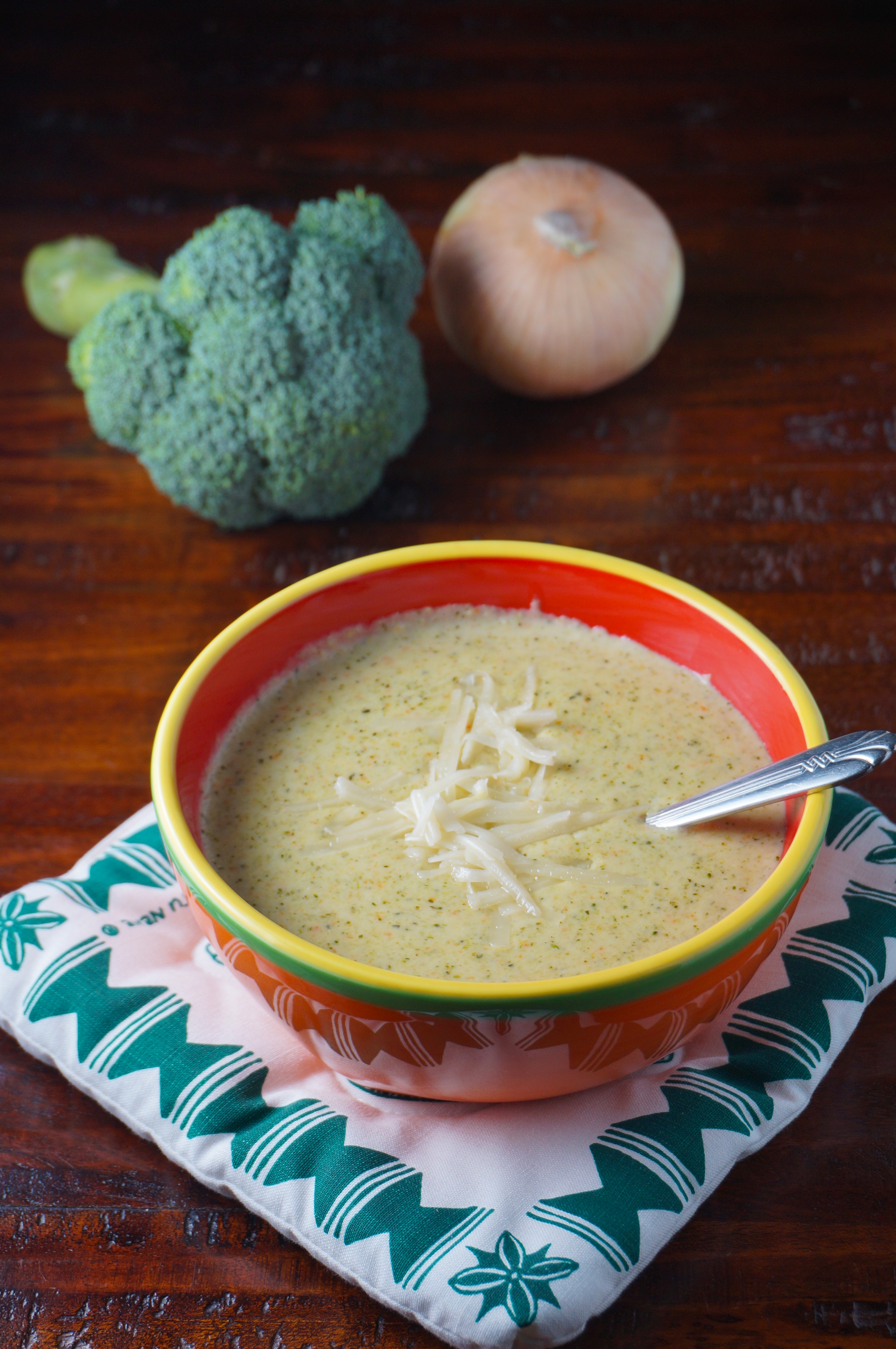 Print
Broccoli Cheddar Soup
6 tablespoons

butter

1

small onion, chopped

1/4 cup

plus 2 tablespoons flour

2 cups

heavy whipping cream

3 cups

chicken broth

2

bay leaves

1/4 teaspoon

nutmeg
pinch of salt, pinch of pepper

1

head of broccoli, chopped

1

carrot, chopped

1

8 ounce block Conebella Farm Sharp Cheddar, grated
Instructions
Melt the butter in a large soup pot. Add the chopped onion. When onion is soft and golden brown, add flour and stir, being careful to blend fully without scorching. Slowly add the cream, and then the chicken broth, bay leaves, nutmeg and salt. Simmer 20 minutes.
Add broccoli and carrot and simmer an additional 20 minutes until soft.
Let cool slightly, remove bay leaves, and transfer soup to a blender. Blend until carrots and broccoli are finely chopped or pureed.
Return soup to pot. Add cheese, and stir until melted.
SaveSave
SaveSave
SaveSave